Older Adults profit from Public Transport
As people get older, their physical abilities and consequently their mobility declines. Physical restrictions make walking and moving difficult. However, even if older adults still do not actually have difficulties moving in their own four walls, longer distances might be a problem. Due to various physical restrictions, certain means of transportation cannot be used anymore. Riding a bike for example can get difficult and even dangerous because of lacking balance. Moreover, due to poor eyesight or reduced ability to react, older adults might not be able to drive safely anymore. Consequently, they are dependent on public transport. In her article "Maintaining Mobility in Older Age" provided by Economic & Social Research Council, Dr Lynn McInnes explains the necessity of enabling older adults to stay mobile by offering appropriate public transport possibilities. Dr McInnes underlines that "findings [of a study carried out by the New Dynamics of Ageing Programme] highlight the importance of providing effective transport networks and a good range of local services to meet older people's needs. Being able to stay mobile is crucial to older people's wellbeing, as loss of mobility means the loss of so many other things from their lives such as the ability to go shopping, meet friends and pursue hobbies and interests." However, it is not only about providing public transport shaped on older adults' needs. It is primarily important to persuade older adults to use the already existing public transport. Since they often hesitate using public transport because of uncertainty, it is important to know their concerns and to help them overcome them. Promoting public transport for older adults is about making it attractive and familiarising them with the use of public transport. This is exactly what the City of Salzburg is doing.
Salzburg invests in age-friendly public transport
Salzburg is part of the EU-project AENEAS, which aims at improving public transportation possibilities and building awareness of sustainable urban mobility. The project wants to tackle challenges many older people are confronted with. It aims at promoting public transport use, solving problems concerning safety, accidents and fears and encouraging the seniors to use the bus.
Actually, Salzburg already has a very well-developed public transport system including eight bus lines with a total length of about 160 kilometres. However, the main mean of transport of adults living in the city is their own car. Especially older adults hesitate because of uncertainty to switch from the car to the bus. This is what the AENEAS-project is working on. The main aim of the initiative is to familiarise older adults with the public transport and to encourage them to use it. Therefore, the city of Salzburg has implemented three main measures.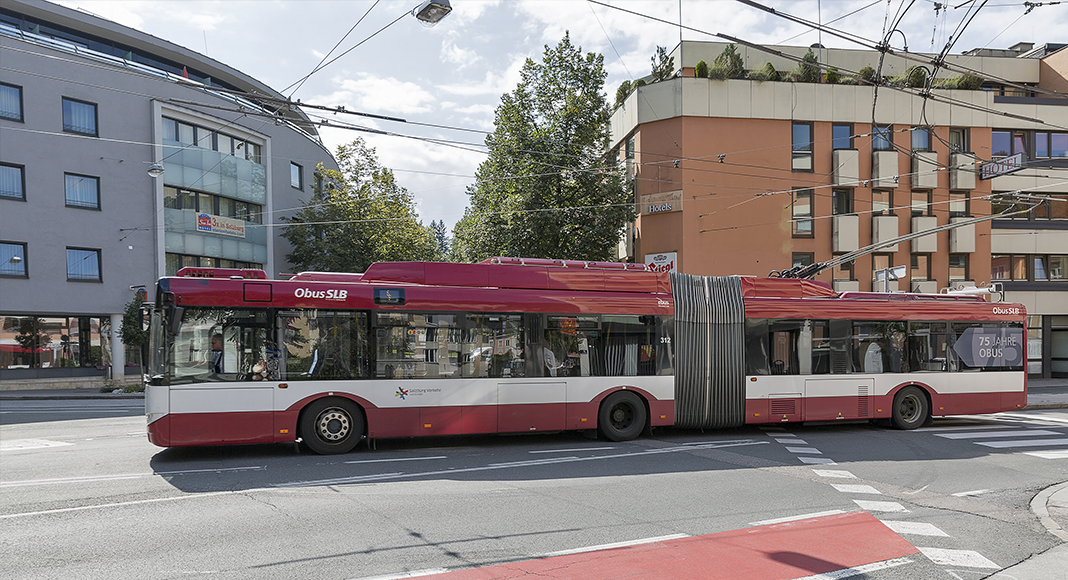 Three Measures for age-friendly public transport
Mobility management for older adults
Encouraging older adults to use the public transport is not only about indicating the different means of transport, but primarily about familiarising them with the bus system and subtly arousing their interest. Therefore, once a year the city of Salzburg organises an event called "mobility day". Together with other companies, organisations and institutions engaged in the public transport sector, the local public transport company invites the city residents and interested people to attend the event in the city bus garage. Beside information stands, where the participating organisations inform about the public transportations possibilities, there are also presentations about safety on board and other relevant topics. Moreover, the visitors get the chance to attend guided tours through the control station. In order to attract visitors, there are music and dance groups for entertainment. However, the campaign is not limited on this one day a year. There are also information stands on markets and the public transport is promoted in the local press.
Safety training for older passengers and driver training
The city of Salzburg aims at promoting public transport use by familiarising older adults with the buses. To reach this goal, AENEAS offers trainings for the older adults which include practice on buses as well as tips and tricks in form of a safety brochure with many additional pieces of advice. In the training sessions, the older adults learn how to safely get on and off the bus, how to take a seat and how to avoid falls during the ride.
Additionally, bus drivers should be trained to better treat senior passengers. They are supposed to develop a sense of consideration and understanding, meet older adults' special needs and, if possible, stop the bus as close to the pavement as possible.
Discovering Salzburg
The local public transport company intended to make use of the city buses more attractive, for locals as well as for tourists. Older adults should consider the bus as great alternative to the car when planning leisure activities. With this aim, the public transport company has initiated a project to create guidebooks for each bus line. In cooperation with travel guides and local seniors, important buildings and sights along the bus lines have been defined and gathered in small tour books. The books also include suggestions for short walks starting from certain bus stops, so that the older locals or visitors can combine their bus tour with walking.
Salzburg's success as model for other cities
The AENEAS project has great success with its mobility initiative in the city of Salzburg. All initiated measures have received considerable support among the municipal mobility companies and organisations. The main success of the project is that the target group, older adults, accepts the initiated offers and participates in large numbers in the various projects. They visit the mobility day, make use of the safety training and in a survey more than 98% of the seniors stated that they want to use the bus for their leisure activities also in the future.
---
Sources
AENEAS Project
Science Daily: Maintaining mobility in older age