The first Active & Assisted Living
Market Observatory
Investors' Event was organised alongside the first European Summit of Ageing 2.0 in cooperation with Happy Ageing Life Tech Valley in Hasselt, Belgium on the 24
th
May 2017. The Summit brought together a dedicated group of innovators, policy makers, experts, academics, and investors that are working on
innovation that matter most to the global ageing community
, such as the use of technology to connect people, creation of healthy communities and treatment and care for older people. An inspirational keynote was given by Koen Kas on 'Delightful Aging'. Also, a special session focussed on integrated care solutions of the future with panel members including Jo Vandeurzen, the Flemish Minister of Public Health, and Peter van Driel of Medtronic. A startup competition also took place that included four AAL projects showcasing their AAL solutions alongside other startups, moderated by Geert Houben. Afternoon sessions covered important topics from social inclusion, through cognitive health to business opportunities in senior care.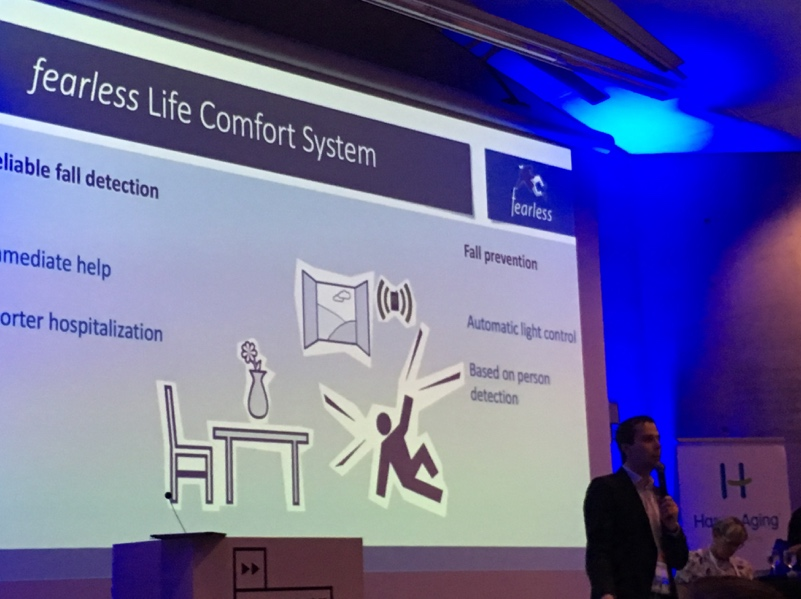 Rainer Planinc of CogVis pitching the fearless Life Comfort System
Eight start-ups pitched their Active & Assisted Living solutions developed within the AAL Programme
In the first AAL Investors Event, Technopolis experts, Peter Varnai and Kristine Farla, provided an overview of the AAL market and the achievements of the AAL programme, before eight eager AAL startups took the stage to pitch their business case to experts such as Menno Kok of EIT Health, Jackie Marshall-Cyrus, and the new director of the AAL programme Klaus Niederländer:
After each presentation, a Q&A session helped elaborate the value proposition of the AAL solution before the session closed with a panel discussion providing reflections on the state of the market and strategic advice to startups on engaging buyers and investors. Final advice of Jackie Marshall-Cyrus to AAL innovators was "to be doggedly determined in your belief and product to succeed".
Startups also had the opportunity to attend a one-to-one meeting with Troy Norcross, an expert in mentoring start-ups, for an intense review of the prepared pitch. Altogether, the event was a unique occasion to meet and learn from international experts and investors and share experiences of other startups.
---
If you are an investor and would like to find out more about this or other upcoming events to be organized in the framework of the AAL Market Observatory, please send an e-mail to aal-market-observatory(at)technopolis-group.com.