Several times, through our life course, it seems that the information that we have access is difficult to understand mainly due to language specificities used. Thus, it can be arduous and stressful task to understand information gathered in some places such is the case of public services. This may be even more problematic when it comes to older age groups. This is not only related with the fact that information about public services are often scattered, but it is also due to low literacy levels of aged groups. The difficulties to properly understand such information by these citizens can put their quality of life at risk, which means that, providing adequate and personalized information to them is critical to ageing well and to be socially included. Technologies can play an important role in this field, which actually is being assumed by governments and enterprises. A number of
gerontechnologies
aimed to "add quality years to life" have appeared to stimulate healthy, active and independent life. Considering the high amount of time that Portuguese seniors spend in front of the television, it appears that
interactive television
(iTV) can be an important ally.
Gerontechnologies
Have you ever imagined yourself when you get older? Do you see yourself using technologies to support you?
The quality of life during the ageing process is highly determined by the individual's ability to preserve their autonomy and independence. The ability to maintain these abilities is affected by individuals' attitudes, but also by the resources available to support them. Nowadays there are emerging new technologies accountable for supporting the elderly, commonly called gerontechnologies. These technologies, aim to support older people to:
maintain their autonomy;
increase the feeling of belonging to a community;
enlarge the social networks;
improve the wellbeing levels;
improve the literacy levels.
Though technologies cannot replace human interaction, they are evolving faster than ever before and tend to be increasingly "humanized". Their potential to fulfil needs of elderly is already taken into account by governments and private institutions in debates and in policies specifically design to elderly. To promote a pleasant experience enhanced, but keeping the environment as natural as possible, the development of gerontechnologies should follow the Ambient Assisted Living paradigm.
Television as an info-inclusion tool
The average daily consumption of 5 hours and 8 minutes by the Portuguese people with 65 years and older, places the television as the preferred information source for the elderly. The possibility of combining the traditional television with the features available in internet led to the emergence of iTV systems that have a great potential for older people to get relevant information for their daily living activities. Considering this, it had emerged the +TV4E project that aim to filling the recognized difficults to access and understand information about public and social services.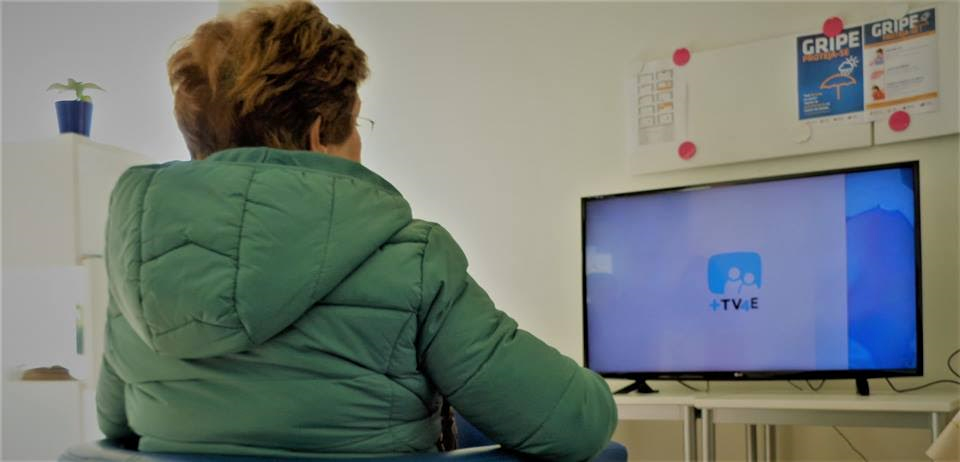 +TV4E Project
The project "+TV4E: Interactive Television as a support to information broadcast about social services for seniors" is a Portuguese action-research project headed by the University of Aveiro that aims to promote the info-inclusion and improve the quality of life of Portuguese seniors through the transmission of video spots with informative content about social and public services. This project comes up with a platform for iTV (running in set-top boxes) to enrich the TV viewing experience with the integration of high-valued informative contents in a personalized way, considering the user's preferences, needs and expectations in the use of public and social services such as finance, social security and social support services. The information is aggregated in seven areas of interest: (1) health care and welfare services; (2) social services; (3) financial services; (4) culture, informal; education and entertainment; (5) security services; (6) local authority services and (7) transport services. The video spots that will be delivered through the platform are automatically produced based on web news. To assure a positive and comfortable experience when receiving information about social and public services through iTV, participatory design sessions were held, with a sample of Portuguese seniors.
The +TV4E will be soon tested with possible end users in their natural environment in order to get inputs to improve the product. For more details consult the site and stay linked to our Facebook!
---
Sources
Caravau, H., & Silva, T. (2016). +TV4E: an interactive television platform as a support to broadcast information about social services. In Proceeding of III Congreso Internacional de Ingeniería Informática y Sistemas de Información (CIISI 2016) (pp. 504–512). Habana, Cuba.
Reis, L., Caravau, H., Silva, T., & Almeida, P. (2017). Automatic creation of TV content for seniors (no prelo). Procedia Computer Science.
Silva, T., Abreu, J., Antunes, M., Almeida, P., Silva, V., & Santinha, G. (2016). +TV4E: Interactive Television as a support to push information about social services to the elderly. In Conference on Health and Social Care Information Systems and Technologies, CENTERIS (pp. 1–6).
Silva, T., Caravau, H., & Campelo, D. (2017). Information Needs about Public and Social Services of Portuguese Elderly. In Proceedings of the 3rd International Conference on Information and Communication Technologies for Ageing Well and e-Health (ICT4AWE) (pp. 46–57). Porto, Portugal.
---
Aknowledgements
The author would like to acknowledge the entire team of the +TV4E project, specially to Hilma Caravau.