Small Barriers – Big Restriction
For people with restricted mobility, even small barriers in their living space like sills, recesses, certain flooring, doors heavy to open or too little space can be a real problem. People without physical restriction may not recognize trip hazards or small height differences and just need a little bit more effort to open a heavy door. However, for handicapped people, older people or wheelchair users such obstacles can be insuperable barriers. Especially if these barriers occur in their own four walls, liveability is severely restricted. Therefore, barrier-free planning and construction is important to avoid problematical situations and to enable physically restricted people to move unhindered and to have best comfort at home. But not only people with restricted mobility profit from barrier-free construction, also everyday chores such as coming home from shopping with heavy bags or a pram are eased by it. The Austrian Ministry of Labour, Social Affairs and Consumer Protection published a brochure which shows how to implement barrier-free living.
The 150cm Rule – More Space for Better Mobility
It's all about 150cm. According to abovementioned brochure, a circle with a diameter of 150cm is the index for barrier-free mobility. These 150cm enable even a wheelchair user to turn around without a problem. Therefore, for accessibility, it is important to always consider a gap of 150cm between obstacles, no matter if it is between two walls, the wall and the bed, the stove and the table, or the toilet and the sink. To test if your home allows to manoeuvre easily with a wheelchair or a rollator, you just need to try to pass narrow parts with a big umbrella. Especially doorways or the space between the wall and a wardrobe in a narrow corridor might not be sufficient.
Access and Moving Inside Should Not Be a Challenge 
Not only for wheelchair users, also for people who are restricted in lifting their feet, a stair or even just a single step at the house entrance can be insurmountable barriers. Therefore, a barrier-free home needs barrier-free access. Steps can be replaced by ramps; and for stairs a stair lift or a lifting device might be a good solution. With small recesses, a short ramp helps a lot. Additionally, using the stairs can be made safer by implementing closed steps instead of slab steps or steps with edge in order to avoid tripping. Moreover, uneven floorings can also be an obstacle for physically restricted people. Therefore, gravel paths and grass pavers should be avoided. Apart from this, there are also tripping hazards inside the house like carpets, sills, cables or objects laying around, which should not occur in barrier-free homes. Furthermore, since older people often have poor eyesight, they frequently have problems to orient themselves at night. In order to make the way from the bed to the toilet safer without disturbing other residents, implementing a light guiding system is a good idea.
Barrier Liberty Makes Daily Routines More Comfortable
Light guiding systems do not only improve orientation in the own four walls, also colour markings on recesses, edges and glass panels facilitate daily routines of visually impaired persons. To make the everyday life for physically restricted people as easy as possible, everything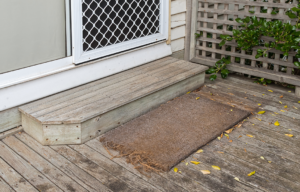 they need should be within reach. Especially permanently installed gadgets should be affixed barrier-free. In this way, radiator valves, sockets and light switches should be neither too high nor too low to enable wheelchair users but also persons who have difficulties with bending to reach them easily. Another obstacle are doors and windows. Especially for people with a walking aid or for wheelchair users, swing doors can be difficult to open, and also windows can cause problems. Therefore, easy-to-open sliding doors or windows are a good solution for barrier liberty in living space. Additionally, doors and windows can be provided with an automatic electric opener for even more comfort.
Independent Body Hygiene is Valuable
Being able to take care of your personal hygiene independently is a great gift. Since going to the toilet and showering are very intimate activities, people want to be able to do them themselves as long as possible. However, for people with restricted mobility, taking a shower or using the toilet independently can be difficult, particularly if the bathroom is not provided with aids for physically restricted people. Sitting down on the low toilet seat or getting into the tub can be unmanageable obstacles. In order to maintain independent personal hygiene there are aids which enable barrier-free and safe usage. Access to the shower without thresholds or a bathtub lifter enable wheelchair users and people with restricted mobility to take a shower or a bath without help. Handles and a shower stool are great gadgets to avoid slipping and by doing so make showering safer. Moreover, handles and toilet seat raisers facilitate using the toilet when sitting down and standing up is getting difficult. Especially for wheelchair users it is important to have everything in reach. Furthermore, it is important to consider aspects such as space beneath the sink instead of a cabinet to allow enough space for wheelchair users. Additionally, a sensor at the tap facilitates usage.
Cooking is More Fun without Barriers
Particularly for wheelchair users using the kitchen can be challenging since a lot of the needed stuff is stored in overhead cupboards and cabinets below the kitchen counter which are obstacles for wheelchair users. In barrier-free kitchens, the equipment and the food should be stored within reach. Moreover, worktops which are not that high and a gap between the cabinets under the stove make cooking more comfortable for wheelchair users. However, a very low worktop is not convenient for non-handicapped people. The solution can be a height-adjustable version which enables comfortable cooking for all residents of a household. Not only restricted mobility can be problematic when cooking. Also, visually or hearing impaired people need a kitchen appropriate for their needs. For visually impaired people the stove should be equipped with rotary controls and not with a touch display in order to enable them to orient themselves haptically. Hearing impaired people have different problems: Since they cannot react on audible signs, e.g. smoke detectors should have a visible alarm. In this way, having a kitchen which fulfils individual needs and supports the respective handicap makes cooking safe and fun.
Barrier-free Planning Avoids Retrofit Costs
In order to create sustainable living space, barriers should be already reduced when planning and constructing a house. A house or apartment which provides as few barriers as possible will be still liveable when the residents get older or physically restricted due to a disease or an accident. Removing existing barriers is usually highly expensive or not even possible. Implementing doors and a shower without thresholds when constructing will give best comfort to the residents in all situations. Furthermore, by installing wirings to the window or the door, they can be used if needed for electric opening systems. In this way, barrier-free constructing avoids high retrofit costs.
If you feel interested in Ambient/Active Assisted living technologies regarding barrier-free living, the project ActiveAdvice will soon support you in searching, get information and advice about the best solution for your particular case. Stay linked to our blog and subscribe our newsletter for more information!
---
Source
Sozialministerium Service