The ActiveAdvice project developed personas for different user gruops, showing their various needs and requirements. Rostütz GmbH belongs to the target group AAL2B - Businesses.
Rostütz GmbH, 1 year, 8 employees, Austria
About
Rostütz is a young Austrian company established one year ago. It is situated in Vienna and strongly cooperates with the Technical University of Vienna since it actually emerged from a university team working on robotics to assist older adults. The lead coordinator is Ingeborg who was involved in the project from the beginning, working at the university as a post-doc. Having received a lot of media attention during the prototype demonstrations, together with the coordination team she decided to continue working on assistive robotics and launch a business. Via a crowdfunding campaign, they collected the money necessary for successful start-up and finally launched the business ten months ago. The robotics solution they have already been working on during the university project is an indoor system consisting of a guidance rail onto which a strong, lightweight and flexible mechanical arm is mounted. This arm is designed to assist physically restricted people at home so that they can hold on when rising or moving. It can be easily operated by speech commands and the implementation of cutting-edge technologies ensures safe usage. Within the next months, the company wants to present the first marketable version of the system and finally commercially launch it.
Communication and Marketing
Since Rostütz aims at launching their product, the company is currently investing in marketing in order to create public awareness. They count on a social media strategy focusing on LinkedIn and Xing in order to find business partners. Their target group are primarily care organisations and only secondarily private end-users. They hope reaching private users indirectly by cooperating with care organisations, which are in contact with a large group of persons in need of assistance. Still in the launching stage, the company does not have an online shop yet. However, they are widely open to public feedback which contributes to advertise the novel robotics system. Moreover, they have a profound description of the solution on their website which aims at informing and supporting end-users.
Ambition
The current ambition of the Rostütz team is to launch their system and to find care or rehabilitation centres that want to have a pioneering role implementing the robotics system. If the market launch is successful and the system establishes in the organisation-based care sector, Ingeborg and her team plan to create a cheaper, private consumer-oriented version which could be marketable one year from now. Currently, in the period of launch, Rostütz is focusing on the regional market, but after establishment will have to expand soon to global market.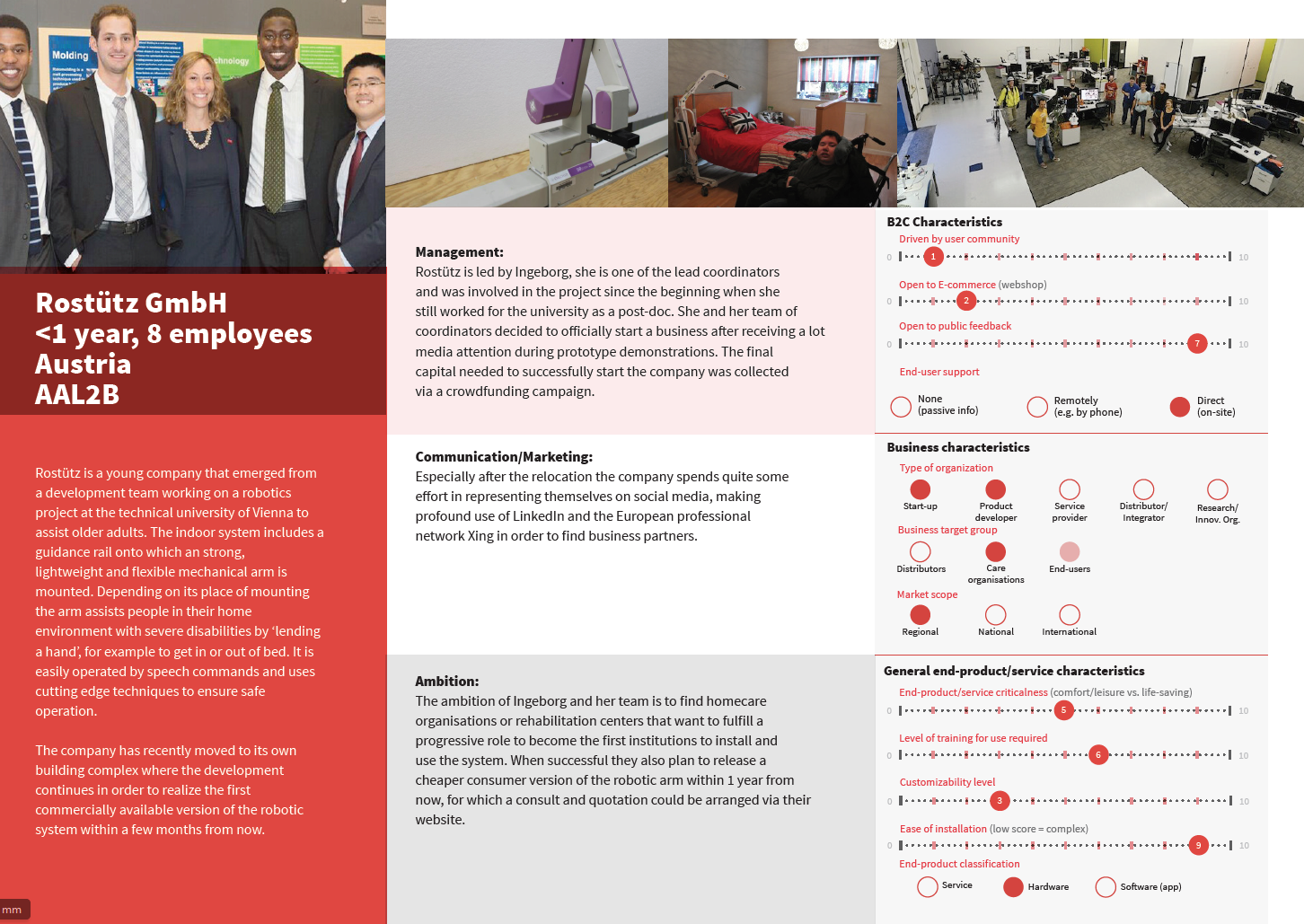 ---
If you are interested in Ambient/Active Assisted living technologies, the project ActiveAdvice will soon support you in searching and geting information and advice about the best solution for your particular case. Stay linked to our blog and subscribe our newsletter for more information!