The ActiveAdvice project developed personas for different user gruops, showing their various needs and requirements. Anthony belongs to the target group AAL2C - Consumers, i.e. older adults and their relatives.
Anthony, 48, professor, Portugal
About
Anthony is 48 years old, working as a professor at the university of Lisbon. He loves his job and the associated travels. Anthony is married and has two children who already moved out to live abroad why he meets them only a couple of times a year. He lives in a house in the suburbs with his wife. They have a big garden which Anthony takes care of, although he does not really like gardening. Preferring to live closer to services and his workplace, Anthony would like to move closer to the city centre. His wife agrees since she expects to have a much busier social living in the city.
Health
Anthony's lifestyle is quite unhealthy. He drinks a lot, especially red wine, and smokes cigars. Moreover, he has not practised sport since his days as a student and suffers from light overweight. Even though he is actually in a quite good health condition, he knows that he will need to get some exercise in order to stay healthy and mobile in the future. Especially when he is working in the garden, he often feels pain in his back and even little physical effort is exhausting for him due to a lack of physical condition. Since he has already been confronted to illness, he had a mild heart attack a couple of months ago, he is conscious of the consequences of aging.
Social Life
With his social life, Anthony is very content. He is happily married and he has a large social network. Going out and having a glass of wine with good friends are his favourite activities. Together with his wife he likes to spend the weekends with other couples. Other people like his company, since he is a very generous and humorous person who enjoys to entertain the whole group. All in all, Anthony is very happy and satisfied with his life.
Technology Usage
As a professor in mathematics, Anthony is very tech aware. He always has his smartphone with him and uses it for various activities, e.g. to tweet from conferences or to chat with his children. He is always looking for smart solutions and likes fancy technologies, e.g. smart home technologies. Since he is physically not very active, he likes technologies that make life more comfortable and facilitate daily tasks, the reason why he bought a robotic lawn mower. However, his wife does not like when he spends too much money on electronic devices and often restrains him when he wants to buy gadgets he actually cannot afford.
Fears and Concerns about the Future
Even if Anthony is still quite young, he is concerned about ageing. As a very social person, what he is mostly afraid of is being isolated from his social network if he once will be less mobile. Due to his heart attack, he is aware of the fragility of health, what makes him afraid of another critical medical incident. Moreover, he has a genetic predisposition for Parkinson's. Anthony likes to plan long term and already prepares a home for growing old. Concerning smart technologies, he is highly ambitious and also has the financial means to invest in smart home devices. Since he lacks access to information about AAL technologies, the ActiveAdvice platform can be a useful source of information for him. However, he will be difficult to engage in an active way in the platform.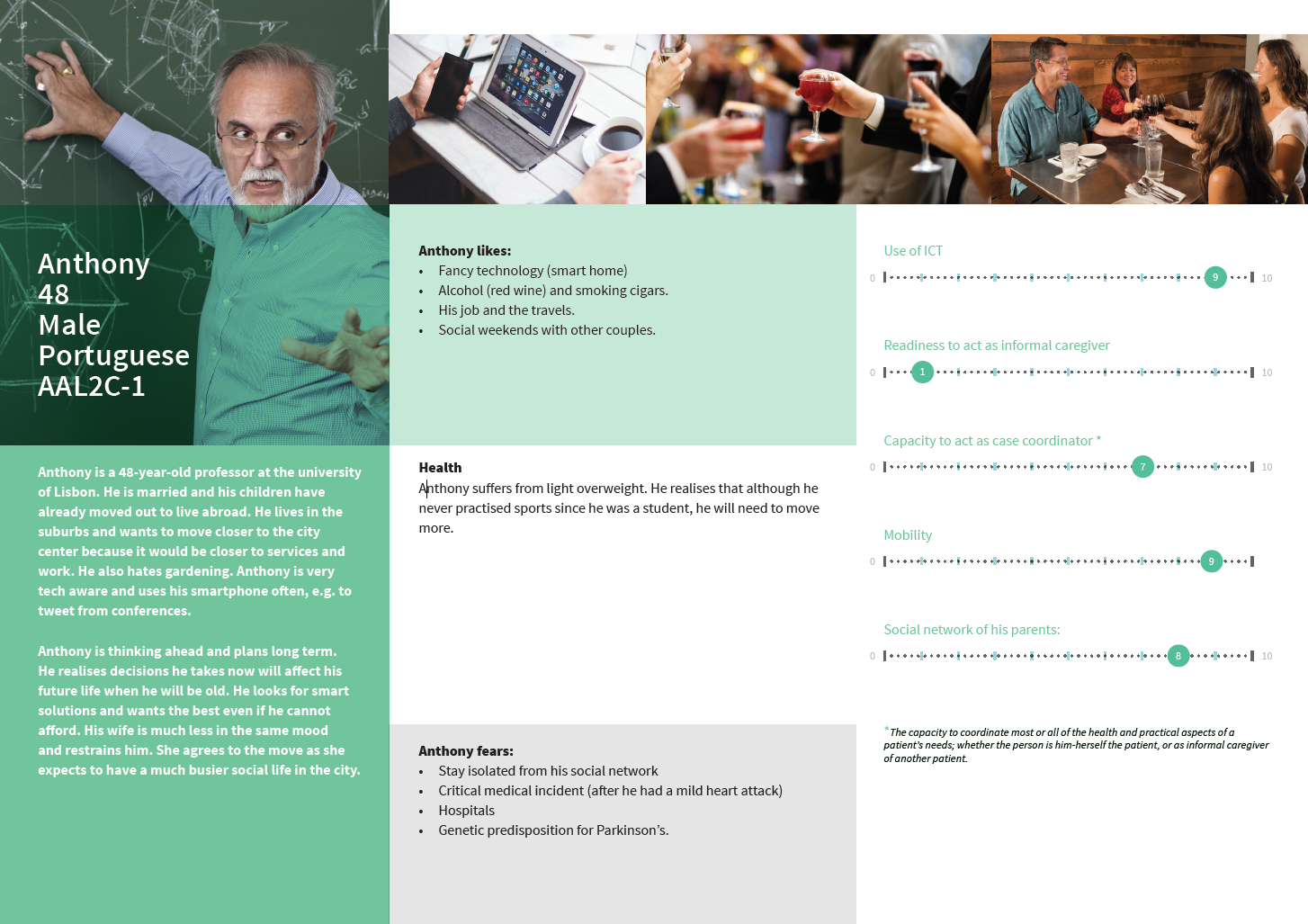 ---
If you are interested in Ambient/Active Assisted living technologies, the project ActiveAdvice will soon support you in searching and geting information and advice about the best solution for your particular case. Stay linked to our blog and subscribe our newsletter for more information!