The ActiveAdvice project developed personas for different user gruops, showing their various needs and requirements. CareCircle belongs to the target group AAL2G – Governments, i.e. authorities, governments etc.
Care Circle, Homecare organisation, 15 employees, Portugal
About
Care Circle is a homecare organisation with 15 employees, situated in a rural area in the North of Portugal. The company provides older adults in the region with care services. Since the small cities and villages, where their clients live, are widely scattered, the caregivers often need to travel long distances which takes a lot of time that they could invest in care. Moreover, the demand of homecare is increasing since more and more people work fulltime and do not have time to take care of their parents anymore. Consequently, Care Circle has difficulties to meet the needs of care satisfactorily. Beside employing more caregivers to fulfil the increasing demand of care, Care Circle would also benefit from technological support that could help to facilitate their work and increase efficiency. Since their budget is small, they need simple but efficient solutions. Especially systems for remote care are what they need in order to cope with the long travel distances. Web communication devices are a good opportunity to communicate and keep contact with their clients without driving to their home each day. Additionally, instruments to detect changing behavioural patterns, facilitate early detection of diseases, and enable timely action in order to prevent more demanding forms of care. Care technologies also allow fulltime working family members to participate in the care of their older relatives, which consequently relives the caregivers.
Ambition and Limitations
Care Circle aims at expanding and increasing the number of clients. Moreover, they want to better customise their care services in order to meet their clients' needs as well as possible. Their ambition is to assist people in order to enable them to live in their own home as long as possible. However, Care Circle faces some limitations. The costs of care that are not covered by public funding are growing, so that their financial scope for innovative care technology is small, especially because the travelling costs are quite high due to the long distances. Beside a small budget, they also have a lack of knowledge on existing care technologies, so that they are even not really aware of possible technological support. Moreover, the concurrence on the care market is growing which makes Care Circle's work even more challenging. Not only the organisation but also its clients are lacking money. Many citizens do not have the financial means for extra care when needed and only afford assistant caregivers, which is challenging for Care Circle employing mostly qualified and consequently better payed nurses. Since Care Circle is seeking for opportunities to improve its work and increase efficiency, they are widely open to innovative technological solutions. Consequently, joining the ActiveAdvice platform, Care Circle can get vital information about existing care technologies and tools and may also contribute its knowledge and experience in the field.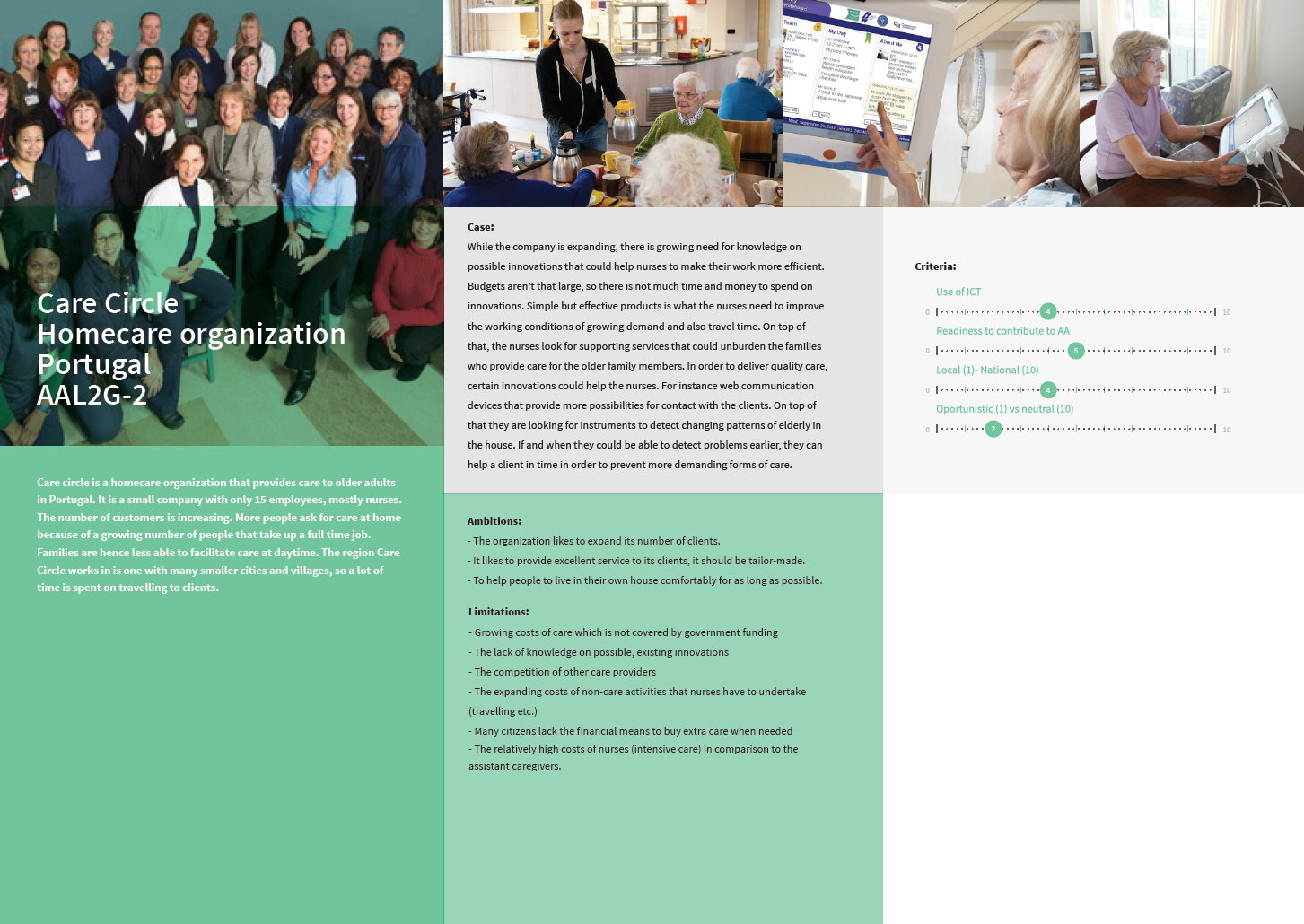 ---
If you are interested in Ambient/Active Assisted living technologies, the project ActiveAdvice will soon support you in searching and geting information and advice about the best solution for your particular case. Stay linked to our blog and subscribe our newsletter for more information!