The ActiveAdvice project developed personas for different user gruops, showing their various needs and requirements. Caroline belongs to the target group AAL2G - Governments, i.e. authorities, governments etc.
Caroline, 35, female, Belgium
About
Caroline is 35 years old and works in front-office in a public centre for social support (CAPS). She is in a relationship with Marie, but they do not live together and don't have any children. Her parents both have just turned 50 a couple of months ago and are still in perfect health. In her leisure time, Caroline likes playing tennis or going to the cinema. The CAPS provides homecare for older adults who strongly depend on care and also operates a retirement home. As a focal point for care-dependent persons, the centre counsels citizens who come for advice or actively supports them in different areas of life, e.g. arranging a temporary or long-term caregiver for the client.
Ambition and Limitations
In order to provide care-dependent people with the assistance they need, Caroline informs clients about existing services and the complex rules and regulations in the care sector. She connects different actors in the care organisation to improve cooperation and to increase efficiency. The organisation where Caroline works is financed by public funds and governmental and municipal subsidies. Beside struggling with the red tape and its complex rules and regulations, another challenge is that the different actors in the care sector tend to operate independently which impedes communication and cooperation. The main competitor of CPAS is the health insurance which also provides healthcare services. Regarding the increasing need of care, Caroline fears that CPAS where she works will not be able to react on the rising demand soon enough. Like all public organisations, CPAS can only react slowly on changes, due to the complex system of regulations. The digitalisation is also challenging, since especially older adults who are not tech-savvy are at stake to fall behind. Therefore, the assistance of care organisations such as CPAS are gaining importance providing older adults with information on health care services. In order to cope with changes in the healthcare system, Caroline needs to understand the potential of technological innovations in the care sector. In order to provide her clients with the necessary information, she is looking for information on existing technological solutions and possibilities to finance such support. A network of similar organisations and contact persons could support her and provide her with vital information. Moreover, the ActiveAdvice platform cannot only serve her as source of information but is also a networking base. Since she considers networking and the exchange with others as potential to cope with upcoming challenges in the care sector, Caroline would be ready to share her knowledge with other partners.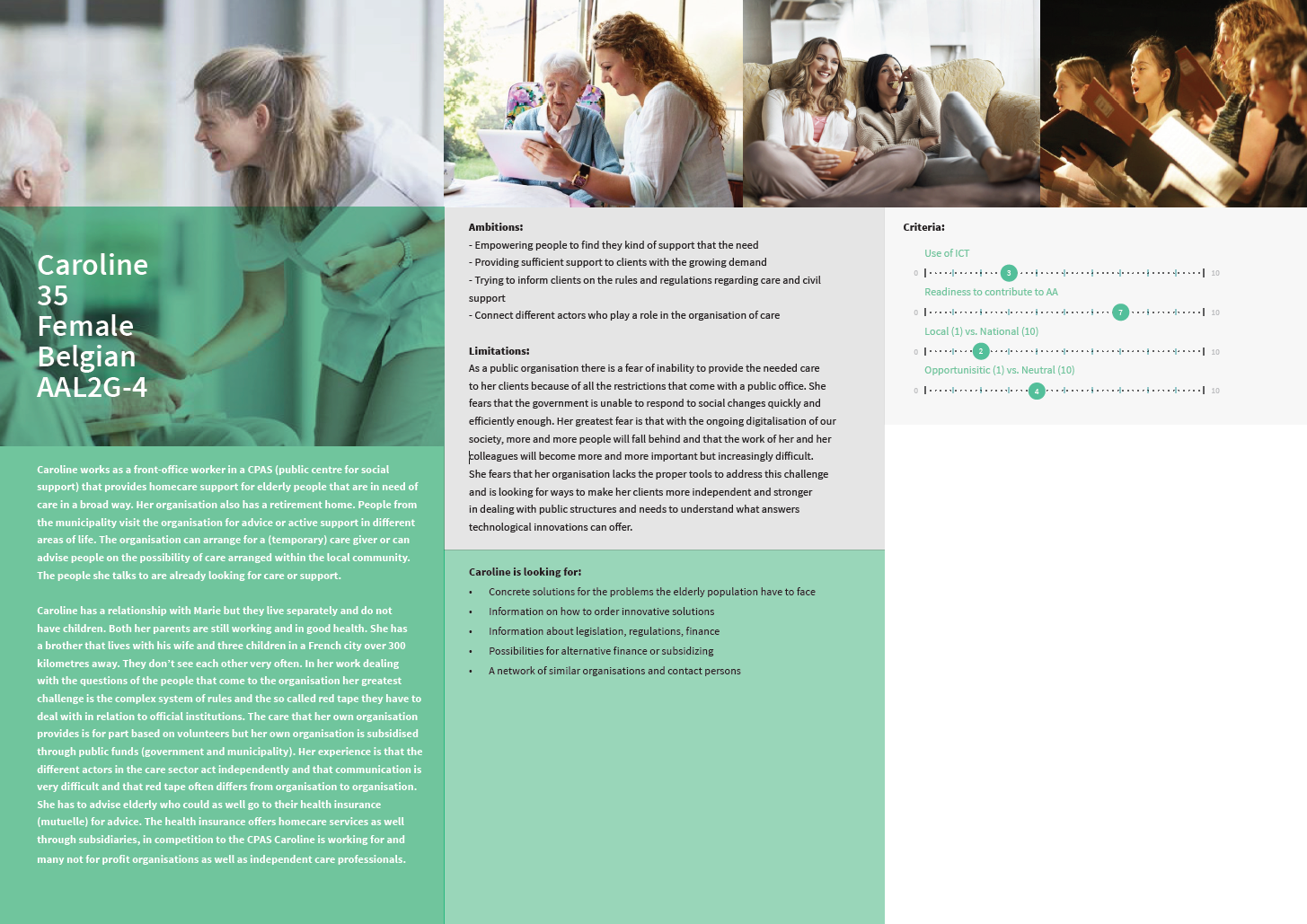 ---
If you are interested in Ambient/Active Assisted living technologies, the project ActiveAdvice will soon support you in searching and geting information and advice about the best solution for your particular case. Stay linked to our blog and subscribe our newsletter for more information!