The ActiveAdvice project developed personas for different user gruops, showing their various needs and requirements. Domocare belongs to the target group AAL2B - Businesses.
Domocare, 9 years, 40 employees, the Netherlands
About
Domocare is a Dutch company which provides consumers with information about home care assistance and sells care products in its various shops. The organisation was founded almost ten years ago and has 40 employees today. Since Domocare is a cooperative organisation, every shop is independent but still affiliated with the company, which arranges joint procurement of products in order to have the same assortment in all its shops. The Domocare shops serve as market place and as demonstration area where older adults or people with disabilities have the possibility to experience the healthcare products and to find the right solution appropriate to their needs. The shop staff assists in the decision-making process and informs about characteristics, the potential and possible disadvantages of the respective products. Instead of visiting the shop, interested clients can also get information via telephone or arrange an appointment for a home visit. This is a good chance especially for physically restricted people for whom visiting the shop is challenging. For the home visit, the client arranges with a Domocare consultant which products he would like to see; and on-site the consultant will inform the client about possible solutions appropriate for his housing situation.
Communication and Marketing
There is a web-shop on the Domocare website, where products can be ordered directly. Some products can also be hired for a certain period of time. In this way, clients are able to test different products in order to find the appropriate one, or they can use the product only as long as they need it. For example, a walking aid might be necessary after an operation, so the client can hire it only for a certain period of the time. Concerning the marketing strategy, Domocare counts on recommendation and references to create trust in their brand. Since clients most likely trust the experience of other users, Domocare is widely open to public feedback. They display a nationally well-known consumer guarantee certificate on their website and allow customers to write public reviews about the organisation.
Ambition
The company's ambition is not to expand their market on an international level, but to further develop their services. They want to improve and extend their services by cooperating with home automation integrators in order to keep up with the trend to AAL solutions in the healthcare market.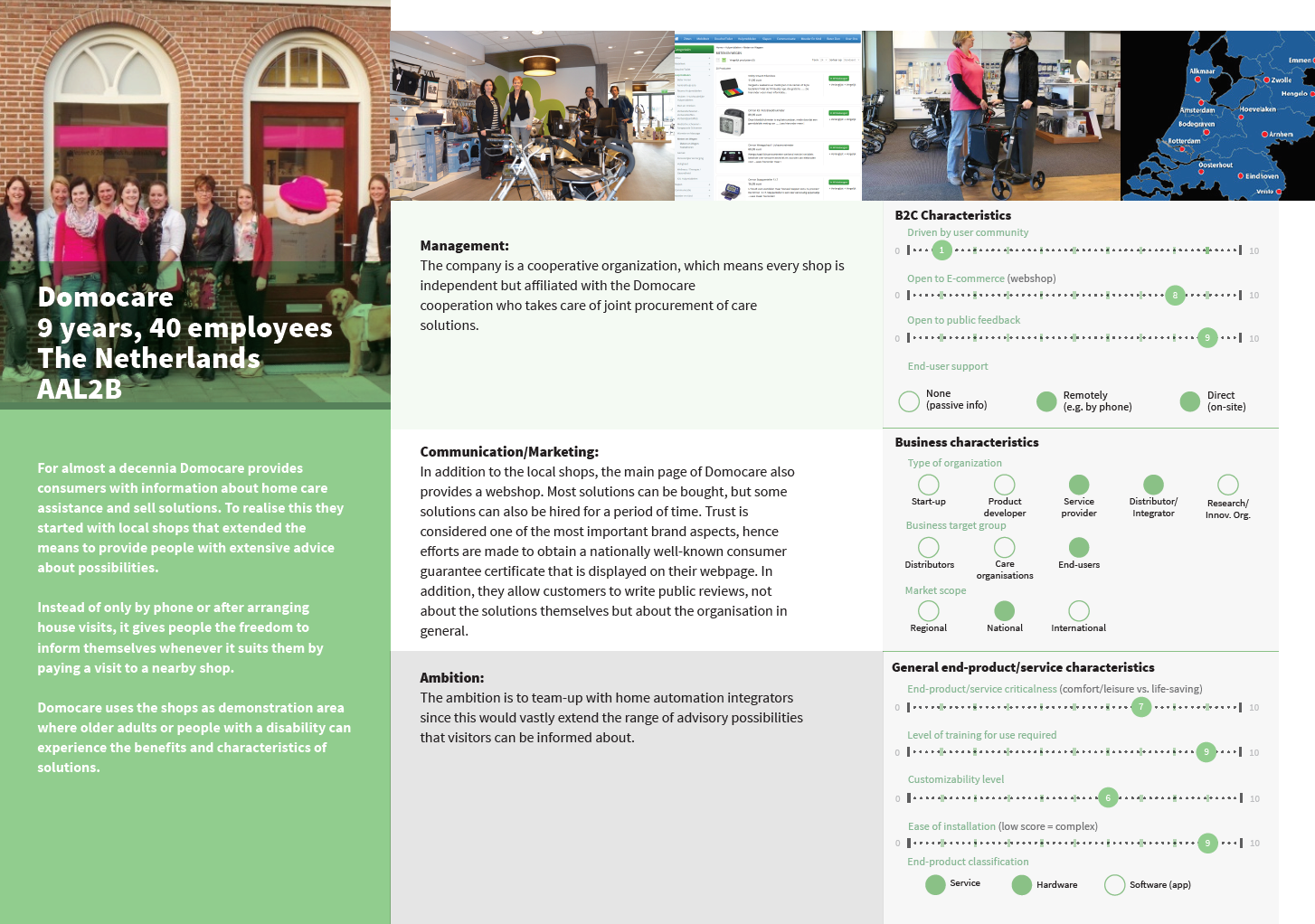 ---
If you are interested in Ambient/Active Assisted living technologies, the project ActiveAdvice will soon support you in searching and geting information and advice about the best solution for your particular case. Stay linked to our blog and subscribe our newsletter for more information!