The ActiveAdvice project developed personas for different user gruops, showing their various needs and requirements. Eva belongs to the target group AAL2C - Consumers, i.e. older adults and their relatives.
Eva, 85, retired seamstress, Germany
About
Eva is 85 years old and lives with her 91-year-old husband in a small village in Bayern where she has been living all her life. Their small house, originally a farmhouse, was renovated and equipped with more modern comfort thirty years ago. The couple has five children and twelve grand-children living in different parts of Germany. Only one daughter lives nearby, in a village three kilometres away. Eva has always been a very active person. Even now, at the age of 85, she participates in many activities. She likes to take care of her large garden and her ten chickens; and as member of the ladies club of the village she regularly goes on day-trips. Although her husband has always been more passive than her, she still can motivate him to participate in certain activities.
Health
For her age, Eva is in excellent health. With her daily activities, she maintains her physical fitness and she does not have any chronic disease. She is even still able to drive a car. However, her husband's health condition is worse. He is not able to drive anymore, suffers from various health problems and therefore has to take a lot of drugs each day. Eva assists her husband with tasks he has difficulties with and cares for him.
Social Life
Eva is a very active and sociable person with a strong social network. Although four of her five children do not live nearby, they keep in contact and speak to each other on the phone or on skype at least every two weeks. Eva loves her grand-children, who are all already adults and still talk to her on skype regularly. At least twice a year, for Christmas and Easter, the whole family gathers, which Eva appreciates a lot. Eva has a strong local network in her home village where she always has been very active. As member of the women's club in the village she actively contributes to various social activities. Sometimes Eva is sad because a lot of the friends of her generation have already died. However, due to her sociable and enthusiastic personality, Eva is well known and loved in her home village.
Technology Usage
Eva and her husband have a computer, which they usually use for surfing the internet, for skyping with their far away family members and for some administrative tasks. However, they both are not really tech-savvy and sometimes need help from their neighbours when using the computer. Eva is sceptical about home automation, since she prefers to do things mechanically.
Fears and Concerns about the Future
Eva is concerned about the growing dependence of her husband. Since he needs her assistance, she is afraid of becoming injured and not being able to support him anymore in the way he needs. Since Eva is afraid of being alone, she fears the day her husband will die. Additionally, she is afraid of being alone in the countryside where no one would help her in case of danger. Even if she is currently still independent, Eva is aware of the fact that due to her age, her autonomy might be restricted by an illness or an accident from one day to another. She is afraid that she and her husband might have to move out of their house into a more age-friendly apartment one day. Having lived in this house for nearly all of her life this would be a hard step for her. However, AAL technology might support Eva in her current and in upcoming situations and assist her in a way that she and her husband keep their autonomy and can stay in their house as long as possible. Eva is less inclined to look for such technology, but with the aid of her social network or the ActiveAdvice platform she could get in touch with the products and services that could support her.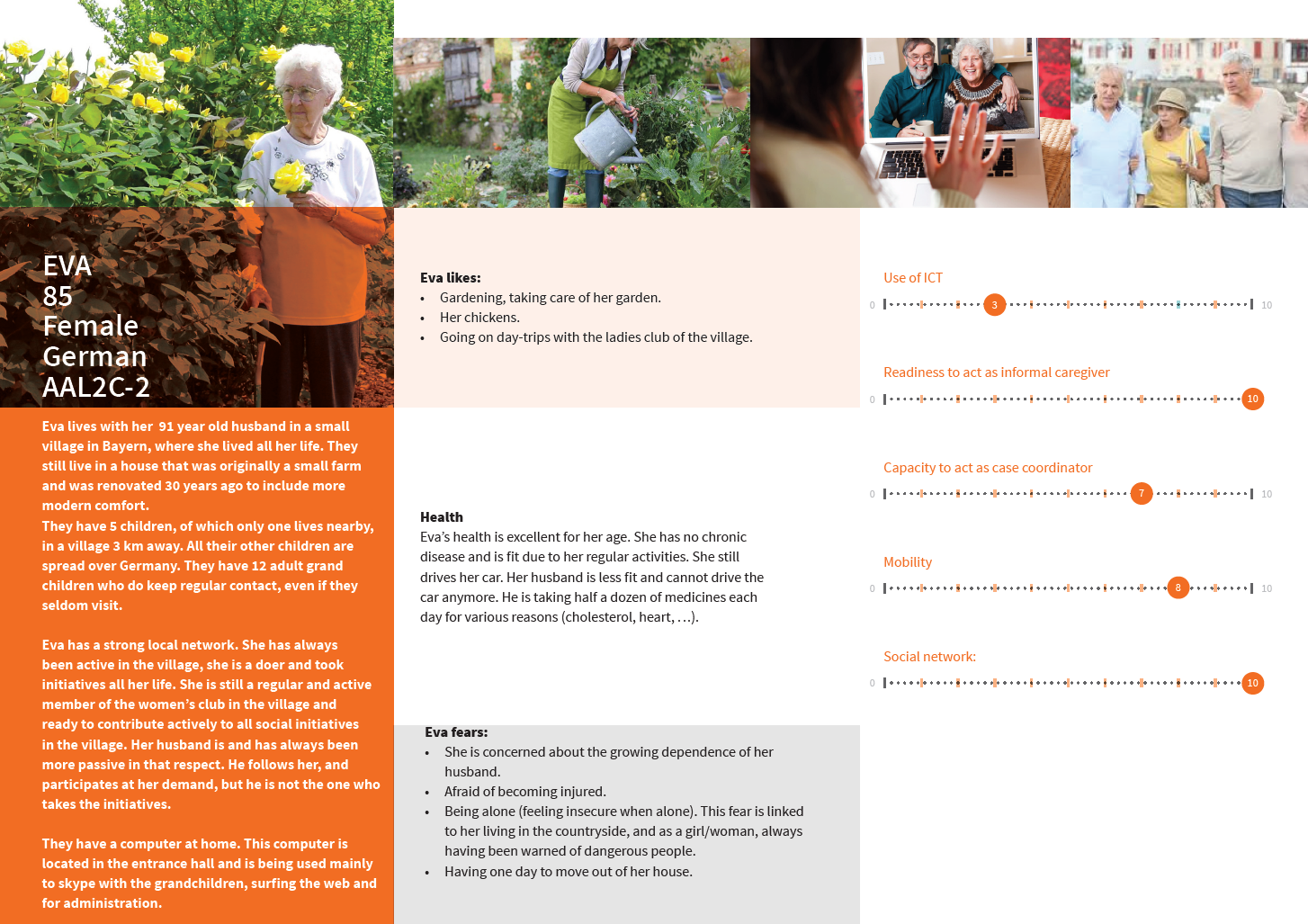 ---
If you are interested in Ambient/Active Assisted living technologies, the project ActiveAdvice will soon support you in searching and geting information and advice about the best solution for your particular case. Stay linked to our blog and subscribe our newsletter for more information!