The ActiveAdvice project developed personas for different user gruops, showing their various needs and requirements. iTelly Ltd. belongs to the target group AAL2B - Businesses.
iTelly Ltd., 4 years, 2 employees, United Kingdom
About
iTelly Ltd. is a start-up company founded and managed by two young entrepreneurs, Rob and Dan, who gave up their previous jobs to create their own business. This national company is situated in the UK. It has developed and sells now a tablet customised to the needs of older adults. Rob had the idea to develop this senior-friendly device when his 80-year-old uncle became in need of support. He realised that there was no easy-to-handle mean of communication which his uncle could use in order to participate in modern communication and to arrange care. Therefore, Rob and Dan developed a tablet for older adults who have a lack of computer skills and are not tech-savvy. With iTelly, even persons who are not trained in handling electronic devices have a gadget which allows them among others to make video calls, surf the internet or share pictures. The device also provides an agenda with reminder function so that the user can be reminded of important appointments or the medication intake.
Communication and Marketing
The iTelly can be ordered directly on the company's website where interested persons find a webshop. Usually, caregivers (formal or informal) find the product when searching on the internet. Since iTelly wants to continuously improve its product, it is open to public feedback. Users or caregivers who want to share their experience with the tablet can use the feedback-form on the website or write an email directly to one of the company's founders. Rob and Dan use the feedback to adapt their product and adjust it to the user needs as well as possible. Most important to them is to familiarise older adults with modern communication and to make the access to ICT as easy as possible for them. Therefore, they invest in B2C communication and provide a customer service where users get assistance if they have problems with the tablet. They can get support via phone or they find FAQs directly on the website. All iTellys work with a back-end that is kept accessible, secure and up-to-date.
Ambition
Currently, iTelly Ltd. is still product focused but the business is ready to scale up. Rob and Dan want to open new market segments such as the cooperation with care organisations as well as going international. For selling iTelly in the neighbouring countries such as Belgium and the Netherlands, theoretically only proper translations and a local back-end hardware would be necessary. Since iTelly is open to e-commerce and user feedback, it would be a good partner for ActiveAdvice.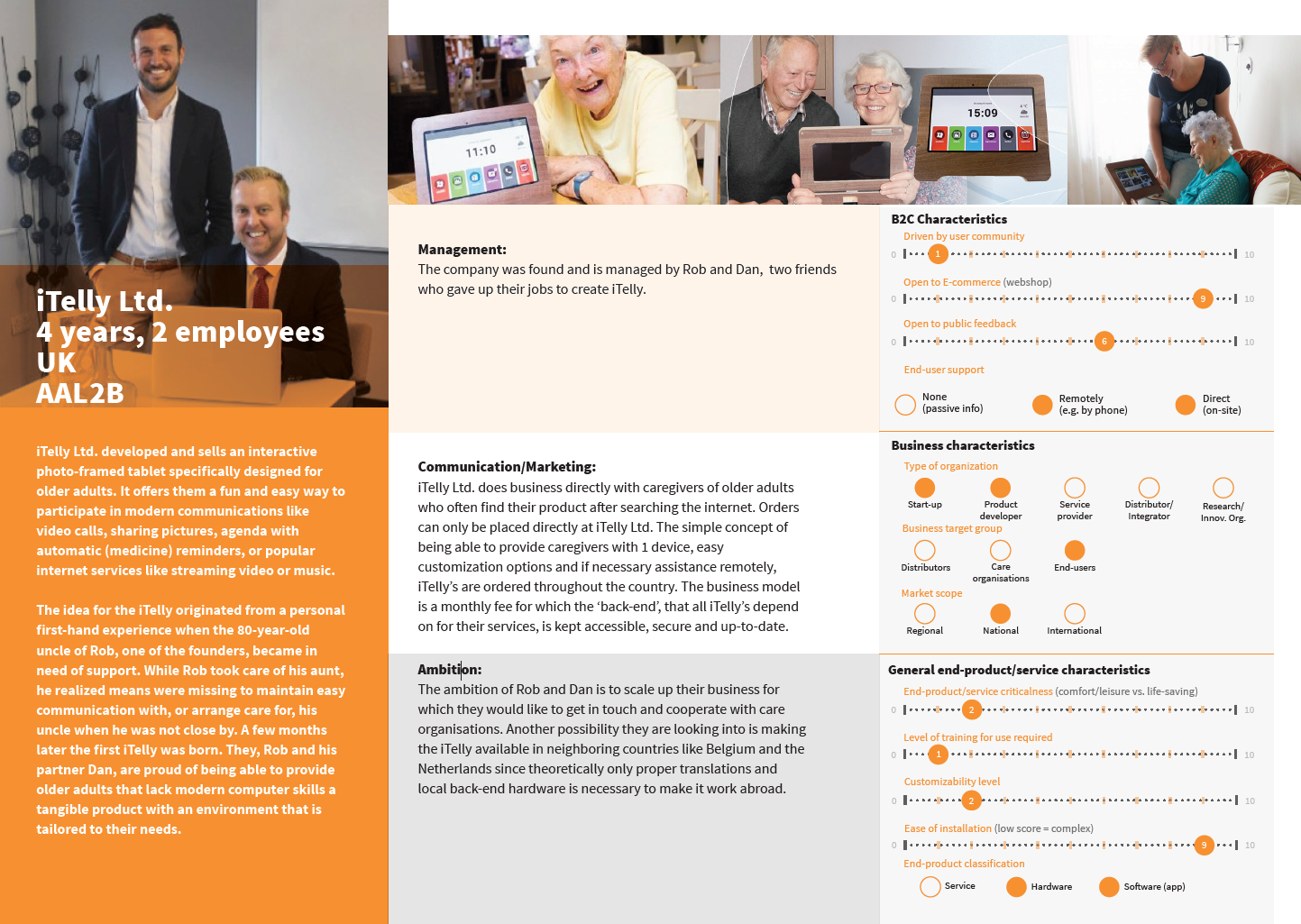 ---
If you are interested in Ambient/Active Assisted living technologies, the project ActiveAdvice will soon support you in searching and geting information and advice about the best solution for your particular case. Stay linked to our blog and subscribe our newsletter for more information!