The ActiveAdvice project developed personas for different user gruops, showing their various needs and requirements. Maria belongs to the target group AAL2C - Consumers, i.e. older adults and their relatives.
Maria, 55, media consultant, United Kingdom
About
Maria is 55 years old and lives in a small town in the UK. She is married to a musician who often is on concert tours. They have two adult children who already moved out. Maria is working part-time in media-consulting, so she has time to assist her mother Shirley, 78 years old, if she needs help with daily tasks such as bills, shopping and doctor's appointments or physically demanding gardening work. Shirley has also a household assistance payed by Maria. Maria likes spending time with her mother, especially now that her children moved out and her husband is abroad frequently. The two women cook together and work in Shirley's large garden. Maria loves her mother's pie. Since Shirley is widow and Maria is her only child, she is dependent on the support of her daughter. Moreover, Shirley has a very small social network, since she has never made new friends in the neighbourhood where she moved with her husband 10 years ago, and she also does not have living family members despite her daughter and her grand-children.
Health
Currently, Maria is facing a difficult decision. She got a job opportunity to work fulltime. If she accepts it, she would consequently have less time for her mother. At the moment, her mother is still able to live alone with some support, but her health condition is declining steadily. Shirley is taking medicines for various health problems which have side effects such as dizziness and confusion. Shirley is insecure and scared if she has to leave the house alone. Therefore, Maria will become sooner or later an informal caregiver for her mother. However, working full-time she would not have the time necessary to take care of her mother. Consequently, her mother would need a formal caregiver or move into a nursing home.
Fears and Concerns about the Future
Maria is aware of Shirley's decreasing physical strength and is afraid that her mother becomes fully dependent one day. She also fears the services to be paid if her mother would need professional care and other assistance. Moreover, Maria is afraid of losing her job, if she does not take fulltime-opportunity. Without the money she gets from her daughter, Shirley would not be able to pay for additional assistance. Maria's dilemma is that not accepting the fulltime job would mean she still could take care of her mother herself, but she eventually would lose the job. Without her income, her mother's household assistance or eventual further care if needed one day. Taking the full-time job, Maria would have less time for her mother and consequently would need to provide her more external assistance. However, working full-time Maria would have a better income and could afford professional care for her mother.
The Active Advice platform can support Maria in her decision-making process. With more information about existing possibilities and current offers in the healthcare sector, Maria might find a solution of her problem. Moreover, AAL products and services might support her mother's care. Devices to detect emergencies help Maria and her mother to feel more secure. AAL devices can also improve the coordination with formal caregivers.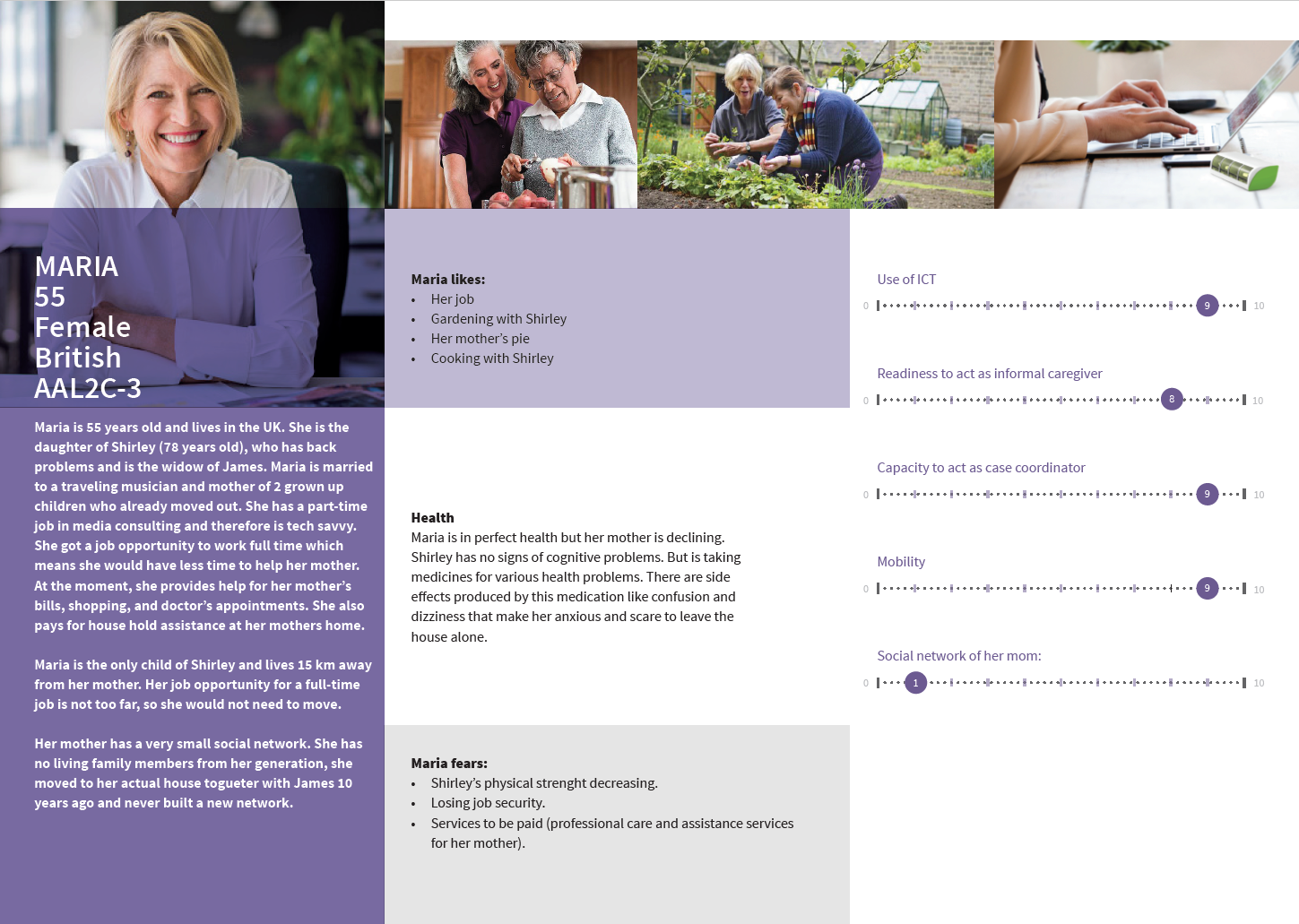 ---
If you are interested in Ambient/Active Assisted living technologies, the project ActiveAdvice will soon support you in searching and geting information and advice about the best solution for your particular case. Stay linked to our blog and subscribe our newsletter for more information!