The ActiveAdvice project developed personas for different user gruops, showing their various needs and requirements. Peter belongs to the target group AAL2C - Consumers, i.e. older adults and their relatives.
Peter, 68, retired manager, Denmark
About
Peter, 68 years old, is a retired manager who owns his own house in Copenhagen. He has two adult children, a son and a daughter, and three grandchildren, whom he loves a lot. Currently, he is experiencing a difficult time because his wife has just died of cancer. After his wife's death, he decided to move to an age-friendly home where he can get old. Having an extra pension, he is in a good financial situation and does not have to worry about his future. Peter is still a quite active person and likes travelling and cooking. Photography is his passion and he takes pictures in order to capture memories of great times.
Health
Despite his age, Peter is in good health and is still very mobile. However, he has never been very sportive and is lightly overweight. In order to reduce risks for cardiovascular diseases and diabetes, his doctor wants him to go on diet. Peter is aware of these risks, but since he is feeling well and has no physical complaints yet, reducing weight is currently not that important for him. What troubles him is his steadily declining eyesight. He fears to become dependent because of blindness one day.
Social Life
Peter is an active person with an intact social life. His children are very important to him. At least once a week his daughter, who also lives in Copenhagen, visits him or Peter goes to her place to spend some time with his grandchildren. Peter likes to go on travels and other activities organised by the city's seniors' club. He joined the club together with his wife, when they both were retired. Since her death, he joins social activities even more often, in order to avoid feeling sad and lonely at home. The loss of his wife was a severe shock and he is still depressed sometimes. However, Peter is actually a quite joyful and sociable person who enjoys life. Due to his social personality and in order to spend his leisure time meaningfully, he wants to dedicate himself as a volunteer. He is very rational and pro-active minded. In order to make the right choice, he reconsiders and evaluates pros and cons before making a decision.
Technology Usage
Even though he has not grown up with technological devices, Peter highly trusts technology. He frequently uses technological gadgets. With his smartphone, he does not only call his friends and children but he also makes use of certain apps. On a trip, he uses his smartphone to check his emails and to surf the web in order to find interesting events or sights. The apartment or house where he wants to move in should be equipped with smart home gadgets in order to provide him with perfect support and best comfort for growing old.
Fears and Concerns about the Future
As a very rational person, Peter has well planned his future and is aware of his age-related decreasing health. He loves his autonomy and is therefore afraid of becoming dependent one day. Since he likes being in company, another fear that has become more severe after the loss of his wife is being all alone. The older he gets the more Peter needs a clear structure and a well-organised plan to feel comfortable. The uncertainty of change makes him nervous and feeling uneasy. Now that he is planning to leave his familiar environment to move to another house or apartment, this big change is worrying him. The ActiveAdvice platform can support him and facilitate his decision-making process. Getting assistance and becoming part of a strong social network, Peter might feel better about his future and the imminent change. Due to his mobility and his strong personality, Peter is ready to support ActiveAdvice in sharing his knowledge and expertise.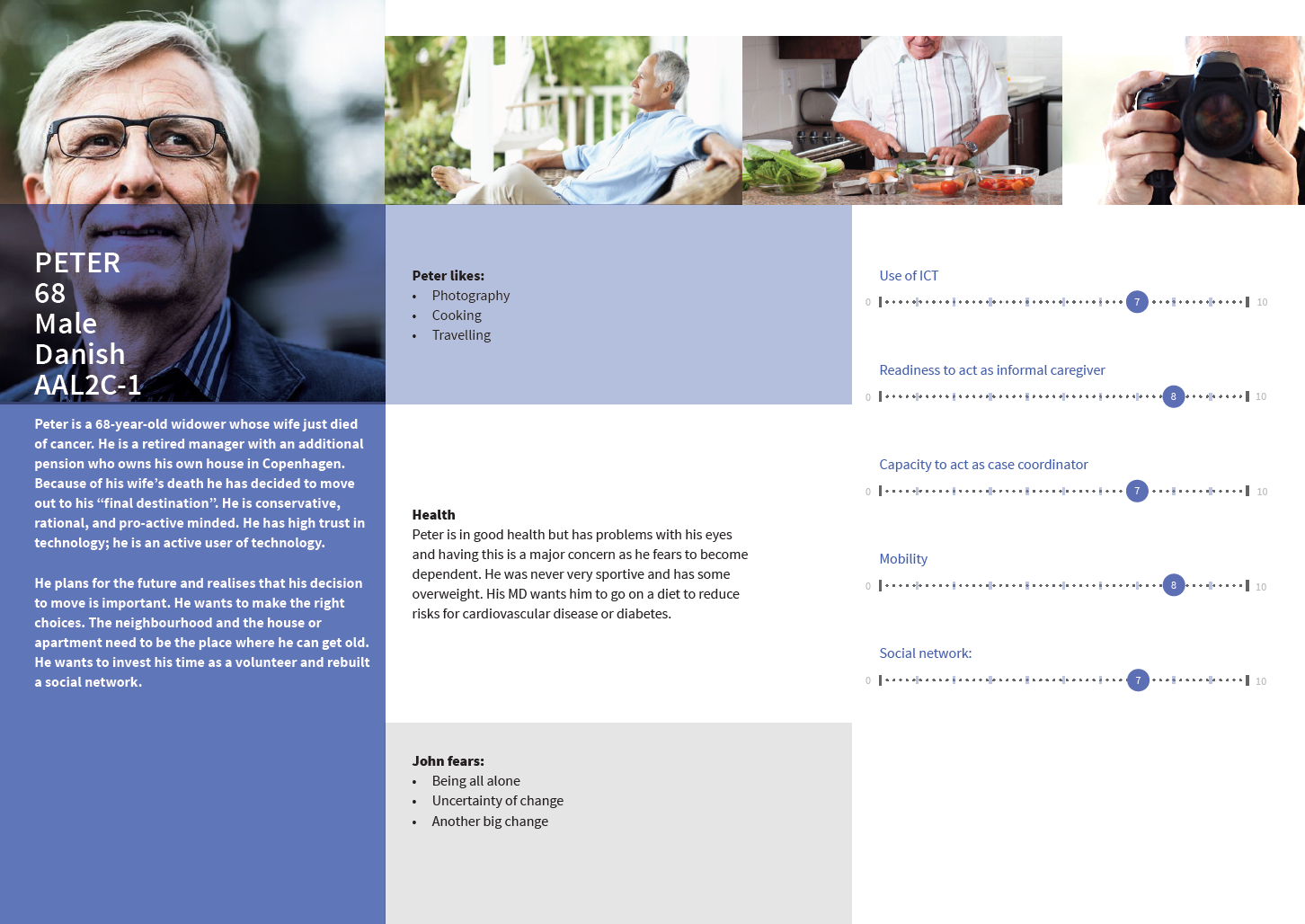 ---
If you are interested in Ambient/Active Assisted living technologies, the project ActiveAdvice will soon support you in searching and geting information and advice about the best solution for your particular case. Stay linked to our blog and subscribe our newsletter for more information!