The ActiveAdvice project developed personas for different user gruops, showing their various needs and requirements. Philip belongs to the target group AAL2C - Consumers, i.e. older adults and their relatives.
Philip, 33, electrical engineer, Austria
About
Philip is 33 years old and lives in Vienna. Due to a parachute accident, he is paralysed below the waist and needs a wheelchair. His apartment is on the third floor of a barrier-free building equipped with some smart home technology. He lives together with his girlfriend who assists him with the daily tasks. Before the accident, Philip has worked in electronics. However, he cannot continue to work in this company because his office is on the second floor of an old building and is not accessible with a wheelchair. Since soldering electronics demands special equipment, he needs to be on-site for work and cannot work from home office. Even the severe accident has not limited Philip's passion for parachuting, which he still is practises with friends, although his girlfriend is afraid that he might have another accident. Beside parachuting, Philip has never been very sportive. He is a smoker and passes a lot of time in front of his computer. However, he likes fine food and cooking and even has his own food blog.
Health
Beside his paralysation, Philip does not have any health problems. Even though he likes smoking cigarettes, he is aware of their negative effects on the body, the reason why he wants to stop smoking one day. Being paralysed from below the waist, Philip has difficulties to handle his daily routine without help. His girlfriend assists him to the best of her abilities, what he appreciates a lot. In addition, he gets regular support of professional caregivers. In order to adapt his apartment to the needs of a wheelchair user, Philip is entitled to get support.
Social Life
Philip has actually a big group of friends whom he regularly met before his accident. However, now due to his restricted mobility he cannot join most of their activities. Therefore, maintaining his social life is highly challenging and since the accident, his social life has been mainly focused on his girlfriend. Although, Philip is grateful to have such a caring girlfriend, he would like to spend more time with his friends and join their activities. Philip's parents and brothers and sister all live in Tyrol, the reason why they seldom meet. Philip is a calm and considerate person who pursues his targets ambitiously and determined. Despite his handicap, he wants to lead a normal life and find a new job to earn his living.
Technology Usage
Working in electronics, Philip is a technical enthusiast. He likes new technologies and has various electronic devices. Most important to him are his computer and his smartphone, which he uses to surf the internet, chat with friends and for playing games. His apartment is equipped with some smart home devices such as an electric window opener which he can control with a remote. In order to facilitate his daily routine, Philip plans to install other assistive smart home devices, which his girlfriend would also appreciate.
Fears and Concerns about the Future
Currently, Philip is concerned about his future, especially with regard to an employment. Since he cannot continue to work at his actual workplace because of missing accessibility, he needs to find a new job. Although he has a good formation and some years of working experience he is afraid that he will not find a job soon because of his disability. However, since Philip is very ambitious he would like to have a job appropriate to his formation and he fears to end up with a boring desk job. After his accident, he gets subsidies in order to enable him a self-determined life. In spite of this support and the care provided Philip mistrusts the healthcare system. Philip can benefit from the assistance and the information provided on the ActiveAdvice platform when he is searching for disabled-friendly smart home solutions for his apartment.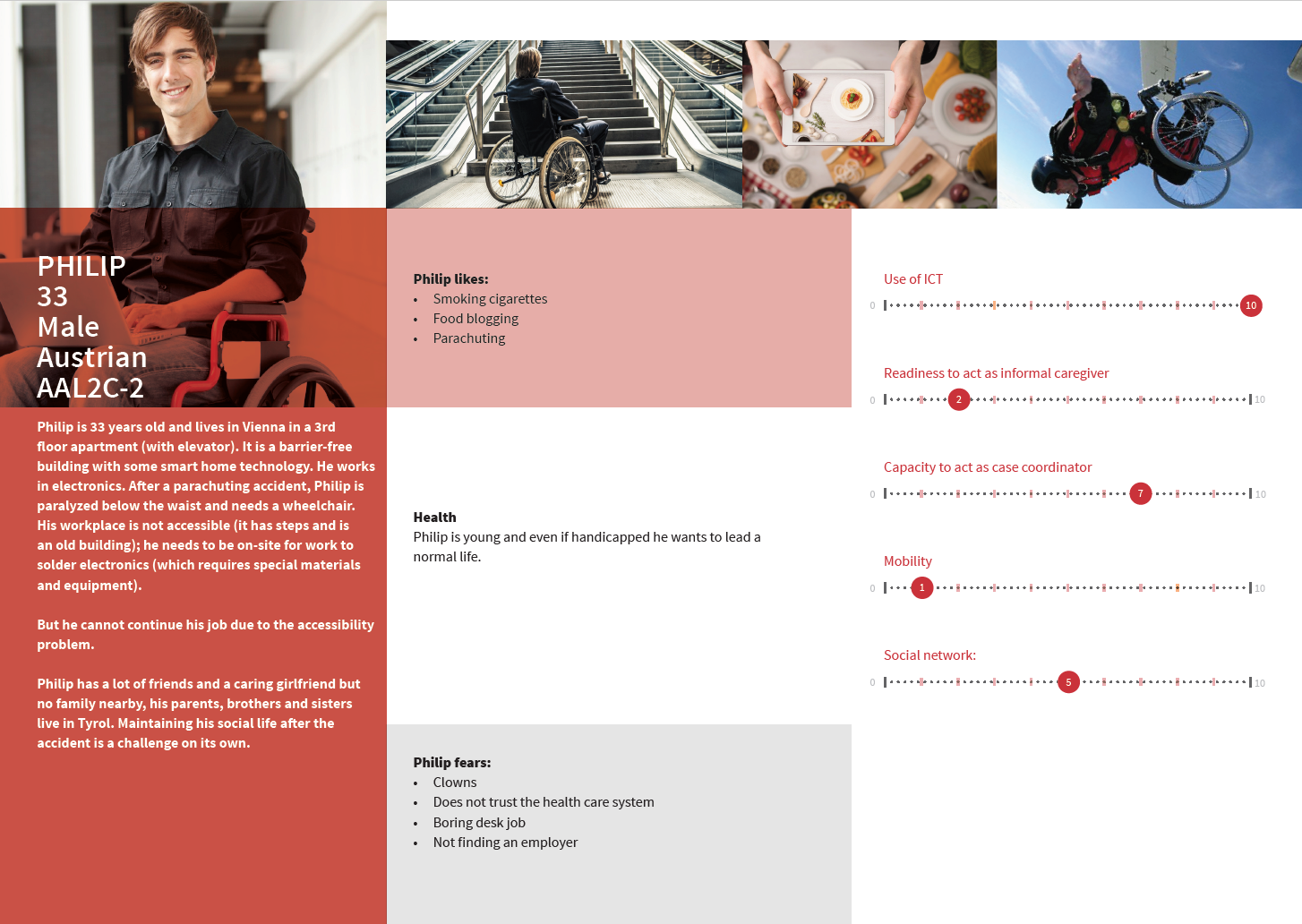 ---
If you are interested in Ambient/Active Assisted living technologies, the project ActiveAdvice will soon support you in searching and geting information and advice about the best solution for your particular case. Stay linked to our blog and subscribe our newsletter for more information!