The ActiveAdvice project developed personas for different user gruops, showing their various needs and requirements. Tobias belongs to the target group AAL2G - Governments, i.e. authorities, governments etc.
Tobias, 50, policy worker, Austria
About
Tobias is 50 years old and lives with his wife and his two children, a boy and a girl, in Wolkersdorf, a small municipality with 7.000 inhabitants, about 30km away from Vienna. Both of his children recently moved to Vienna to study, but they still come home during holidays and sometimes even over the weekend. Tobias' parents are nearly 80 years old but still in good physical and mental health, so there is no need for assistance. They live nearby and Tobias meets them regularly. For work, Tobias commutes to Vienna. He is a policy worker responsible for the local legislation on all care related issues for the region of Vienna and Lower Austria and primarily advices the council on possible developments regarding the care sector in this area. Moreover, he contributes to the realisation of political and administrative goals to cope with challenges within the care framework his organisation is responsible for. Since he is working in the political domain, Tobias is often confronted with budget cuts; and he is always searching for more efficient innovative solution that reduce costs but maintain or even increase quality of the healthcare services. It is highly challenging to create tools for governmental organisations that allow to combine high quality care with cost reduction.
Ambitions and Limitations
Tobias is conscious about the potential of technological innovation in the care sector, but there is not enough public awareness on these novel solutions. Therefore, his greatest concern is to make his organisation and the local political body aware of the positive effects and the potential of technological solutions to cope with the increasing demand of care services. Tobias considers innovative technological solutions as the key to the balance between the need of effective and affordable care of the citizens and the restrictions of public funding. He also wants to connect local care organisations with companies that could provide them with innovative care solutions, which would enable the two parties to profit mutually from their knowledge and experience. However, for the proper promotion of technological care solutions, Tobias needs more information about existing products and services, their efficiency, their social effects and their costs and procurement rules. Getting to know where the respective products or services are implemented, would help him to inform about their potential or possible challenges. Tobias is very ambitious and would like to get involved in the ActiveAdvice platform. He may appreciate the platform as source of information, but he can also contribute to the platform actively sharing his experience in the area and working as a consultant.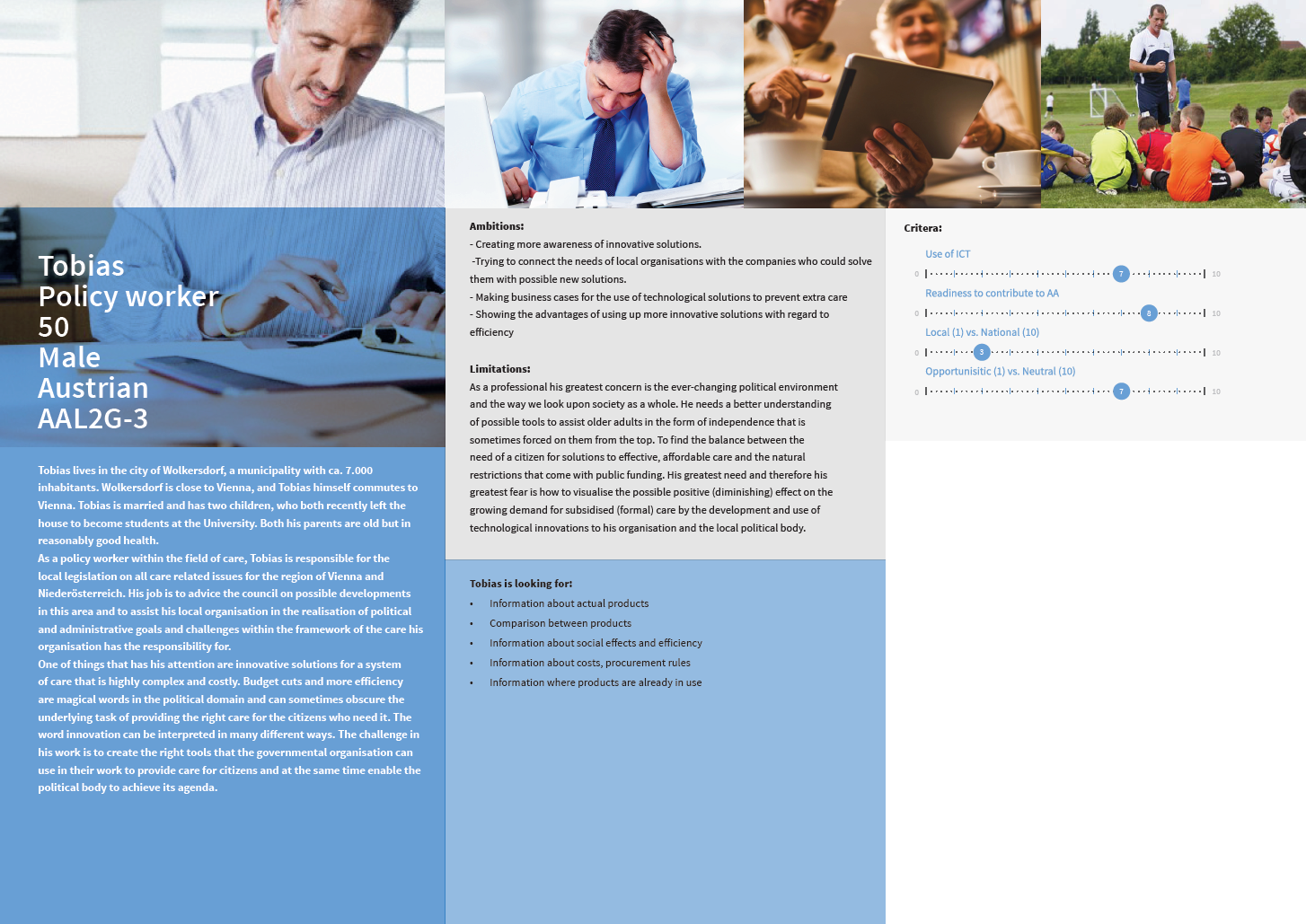 ---
If you are interested in Ambient/Active Assisted living technologies, the project ActiveAdvice will soon support you in searching and geting information and advice about the best solution for your particular case. Stay linked to our blog and subscribe our newsletter for more information!