The ActiveAdvice project developed personas for different user gruops, showing their various needs and requirements. Udego belongs to the target group AAL2B - Businesses.
Udego, 14 years, 50 employees, Switzerland
About
Udego is a SME with 50 employees established 14 years ago. The head office of the research and consulting enterprise is in the German-speaking Switzerland; the enterprise has two branches, one in Germany and one Austria. Founded by two brothers who had worked in the consulting area for several years, Udego is originally a family enterprise. Today, the offices in Switzerland and Austria are both managed by respectively one brother; and the branch in Germany is under the leadership of a long-term business partner. The consulting company sells its expertise to businesses and organisations in the care sector focusing on the connection between technology and societal environment. They analyse and map various societal factors that influence and guide technological development and innovation such as tech-acceptance, ethical issues and consumer trust. Udego was for example involved in the development of a fall detection system, providing the company that developed the system, with information about existing fall prevention measures. Additionally, Udego listed country specific care arrangements and legal liability in case of a failure of the system to support the company's strategic planning.
Communication and Marketing
Udego is not very active in online marketing. They have a company website; the only social media channel they use is twitter in order to inform followers about news. Participating in various research initiatives, Udego makes sure that the company's logo is displayed on dissemination material such as project or partner websites. The target group of their services are care organisations on an international level mainly concentrated on the three countries Switzerland, Germany and Austria.
Ambition
In order to generate best research results, Udego counts on knowledge exchange with other research affiliated partners. The company cooperates with different partners in German-speaking countries to provide extra resources or participate in funded projects. Primarily the company aims at staying sustainable and a secondary objective in the long term is expanding businesses in central Europe and gaining new customers in the north of Germany or Luxemburg for example by opening new offices.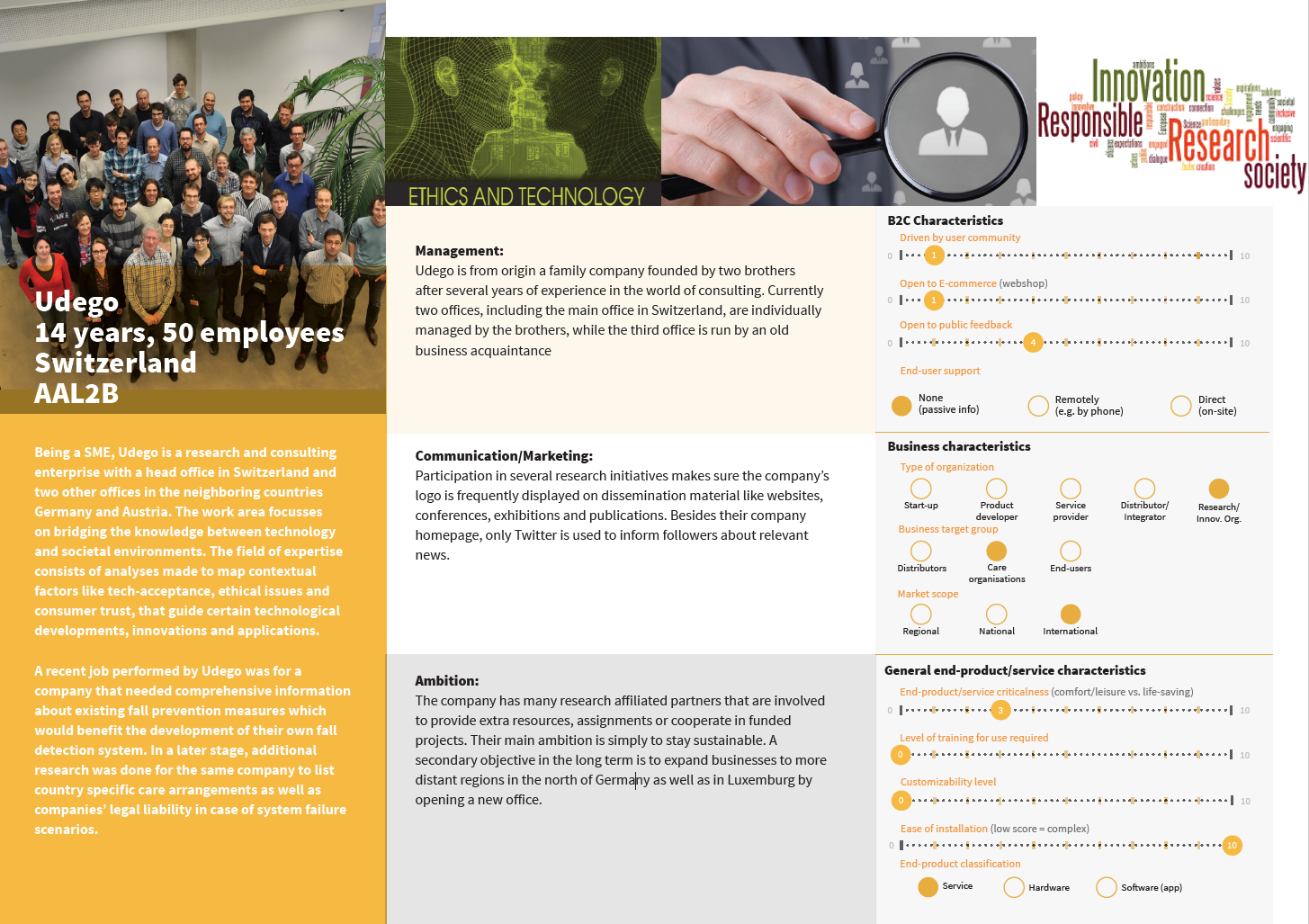 ---
If you are interested in Ambient/Active Assisted living technologies, the project ActiveAdvice will soon support you in searching and geting information and advice about the best solution for your particular case. Stay linked to our blog and subscribe our newsletter for more information!