Technopolis spoke with Walter Ritter, researcher at the University of Applied Sciences Vorarlberg and contributor to the project '
GREAT Persuasive Ambiances'
. We spoke at the
AAL Forum 2018
, where Walter was demonstrating a module concept for supporting people with dementia in the exhibitor space.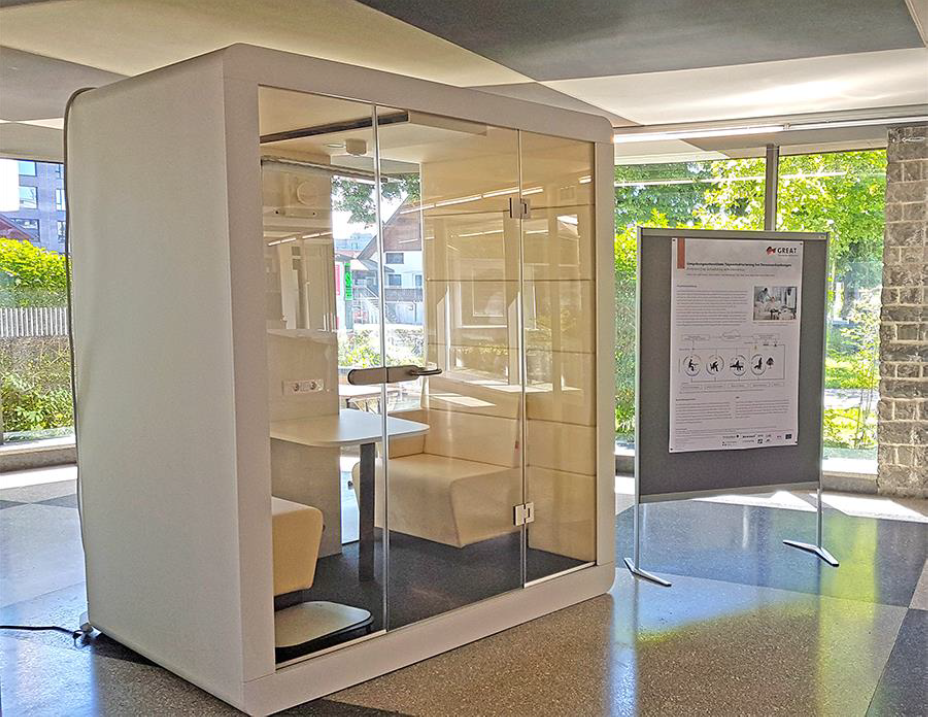 Demonstration cabine for the GREAT modules used at different conferences; source GREAT – AAL-2016-023 dissemination plan
What is objective of the GREAT Persuasive Ambiances project?
Our project aims to assist people with dementia to maintain their daily routine via room ambiences that influence emotions, activity and mood.[1] The light, scent and sound modules (as demonstrated inside the demonstration cabine) are designed to induce mood states and can help "activate" or "relax" people. For example, the modules can help activate a person with dementia when he/she needs to get ready for dinner and the modules can help relax a person when he/she needs to get ready for bed.
What we have designed is a flexible architecture and one of the key principles of the GREAT system is that users must always be in full control of the system so users can override the system manually via a simple mobile app. People are given a choice: activate, relax (or do nothing).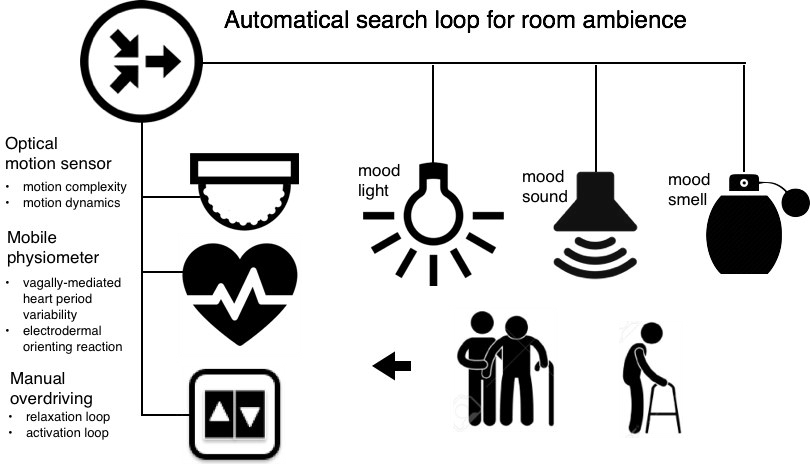 GREAT Components Overview, Source: GREAT consortium
Why opt for the modular concept?
We aim for the GREAT system to be usable in widely varying environments, private homes and care homes, and for this reason we have opted for the modular approach. Light, sound, and scent modules can be used individually or in combination.
The GREAT system also gathers data from motion detectors and physiology sensors worn by the user. We are developing machine learning tools to allow the sensors to provide feedback, and thereby illustrating if the user is relaxing more with a given combination of light, scent and sound.
Under what AAL call was your project funded?
Our project was funded under the AAL call 2016 – living well with dementia.
"The aim of Call 2016 is to bring together technologies and services to create ICT based solutions addressing the aspirations and challenges that will enable the wellbeing of people with dementia and their communities".
Who are your partner organisations and have you worked with each other before?
The University of Applied Sciences Vorarlberg is the project coordinator and we are working together with seven partner organisations: Bartenbach GmbH, Intefox GmbH, Tirol Kliniken GmbH – Hall, University of Applied Sciences St. Gallen, CURAVIVA Schweiz, EMT – energy management team AG, and apollis - Institute of Social Research and Opinion Polling.
Before the launch of the AAL project the University of Applied Sciences Vorarlberg had already worked together with some project partners, including Bartenbach GmbH but the university had never worked in this consortium. Without the AAL funding it is unlikely that this project would have taken off.
At what stage is your project right now and what are the next steps?
At this stage we have developed prototypes and we are testing the solution in hospitals with people with dementia and in private homes.
It is possible for us to go to market in two or three years-time. It will be possible to sell the individual solutions separately or as a package, as is originally intended.
Amongst other, over the course of the next year, we are working on ensuring that the modules are reliable and that they are easy to set-up. We are also looking into ways to ensure after care, in case a module breaks down.
AAL projects should have to ambition to 'go to market' after maximum two to three years after the end of the project.  Based on your experience, is this realistic?
The project started at the beginning of 2017 and it is expected to finish at the beginning of 2020. The project is on track although our consortia had to go beyond the original project plan and develop / prototype (additional) technical solutions that were not yet readily available on the market.
What are your plans for the future?
I would like to work on extending the product development to a broader market segment.
---
Sources
[1] http://uct-web.labs.fhv.at/index.php?id=265
---
If you are looking for products which can support people suffering from dementia or informal caregivers, you can find additional information in our AAL Guideline to AAL Solutions. In this guide we explain in which stages which type of products can be of help. We distinguish three different target groups for whom the technology is of use.