Imagine a care-free home system that allows people the freedom to look after themselves using smart devices. Controlling your own private and intimate issues with devices as opposed to having to rely on external care is not only practical and cost-effective but also empowers individuals socially.
Consequential Robotics, a UK-based startup company and an idea-based collaboration between Sebastian Conran Associates (SCA) and the University of Sheffield, has set out to do just that! Their work focusses on the development of a platform that facilitates independent living. At the centre of the care-free home system is an autonomous companion robot, called MiRo.[1] It is the world's first commercial bioMimetic Robot, which is both friendly and approachable, whilst being fully functional. MiRo achieves this by combining pet-like features that people can emotionally engage with and capabilities of modern Artificial Intelligence technologies.[2]  MiRo is also a flexible programmable platform for researchers and mobile app developers.
Designed as a companion robot, MiRo does not provide physical assistance but offers companionship with a monitoring function. MiRo works in conjunction with the care-free home system, interacting with wearables, such as a wristband that monitors vital signs and risk of fall, with ceiling-mounted sensors that measure environmental factors, and with assistive furniture. MiRo can also connect to a data hub, analyse information to assess if the person is well or needs assistance. Together, MiRo and the care-free home system, can track and record all the data leading up to an incident, providing a useful way for caregivers to review the situation and take action.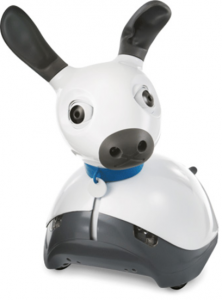 MiRo is effectively a screenless computer with a wide range of technologies packed inside: it uses sensors for facial and voice recognition, light sensitive vision, navigation technology and precision sonar to facilitate its role as a companion robot; a multi-processor architecture to aggregate, process and analyse data for animal-like behaviour; actuators to move ear, eye-lid, tail and travel around smooth surfaces, to signal to the outside world through coloured light display and a speaker to produce sounds; communication is achieved through WiFi, Bluetooth and SD card reader.
MiRo has recently won the Best Demonstration Award at the at the 2017 Human Robot Interaction Conference in Vienna, Austria.[3]  MiRo is however not yet a finished product for general consumer use.  The MiRo robotic platform is currently only available to researchers, developers and robotics professionals at a cost of £2,200 (plus tax and shipping). The platform includes MiRo and a developer kit software package.  It is being trialled on older people by a number of institutions across the world including the University of Sheffield and Bristol Robotics. It is planned that a £600 consumer version will go on sale in September 2018.
MiRo already shows an extensive range of emotional intelligence adapting to most situations with pin-point accuracy with an advanced 'brain system'. It learns from its surroundings and develops a unique personality: it makes decisions, displays emotions and responds to people in a unique and autonomous way. The spirit of developing MiRo is addressing societal needs in a completely unique way.  It is hoped that MiRo will help to alleviate isolation and supplement human care in future, empowering older people and health care professionals alike.
---
Sources
[1] http://humanrobotinteraction.org/2017/announcements/#BEST_DEMONSTRATION_AWARD
[2] http://sebastianconran.com/project/miro
[3] http://consequentialrobotics.com/miro/