How to Define Telehealth and Telemedicine
There is no definitive definition for the terms telehealth and telemedicine. According to the World Health Organisation (WHO), telemedicine was coined in the 1970s and literally means "healing at a distance". Telemedicine and telehealth are often used interchangeably and describe medical treatments that include ICT to improve a patient's treatment and to offer better access to care and medical information. The WHO defines telemedicine in their report on telemedicine as follows:
"The delivery of health care services, where distance is a critical factor, by all health care professionals using information and communication technologies for the exchange of valid information for diagnosis, treatment and prevention of disease and injuries, research and evaluation, and for the continuing education of health care providers, all in the interests of advancing the health of individuals and their communities"

Telemedicine: opportunities and developments in Member States: report on the second global survey on e-Health 2009, 11
Four elements are essential to telemedicine:
the purpose to provide clinical support
the aim to overcome geographic barriers
the use of ICT
the goal to improve health outcomes
Although the WHO generally uses the terms telehealth and telemedicine interchangeably, other experts make a distinction between the two terms. Telemedicine refers to services delivered by doctors only, whereas telehealth includes all types of health professionals such as nurses, pharmacists and doctors.
5 Reasons to Practise Telehealth
There are many reasons for doctors to practise telehealth. The five most relevant for doctors and patients are as follows:
Doctors get paid for services they may now be doing for free
Many doctors spend precious time on the phone talking to their patients about test results, follow-up appointments and additional treatments. When doctors use telehealth, they can deliver this kind of service over video calls and hence get reimbursed for their work. Such phone calls or text-based interactions can be monetized since they provide patients with services they need or want.
Providing patients with better access to healthcare
Telehealth enables doctors to offer patients better access to healthcare during and after office hours. Additionally, doctors can cooperate with online medical partners and hence advance their services.
Using mid-level and support staff more efficiently
Triage services can be improved with telehealth. Nurses and medical assistants can use video calls when evaluating new complaints. After the evaluations, patients concerned can be triaged to home care, a telehealth visit or a face-to-face visit at the doctor's office. Moreover, telehealth can be used for pre- and post-procedure consultations.
Simplifying real care coordination
Doctors do not have to refer their patients to specialists anymore. With telehealth, these medical providers can be invited into the doctor's office enabling provider-to-provider consults and easier team-based healthcare.
Making patients' lives easier
It is not always necessary for the patient to come into the doctor's office to discuss medication management. People with tight time schedule or a lack of mobility will benefit from telehealth since they can use the phone, video call or a text message to communicate with their doctor.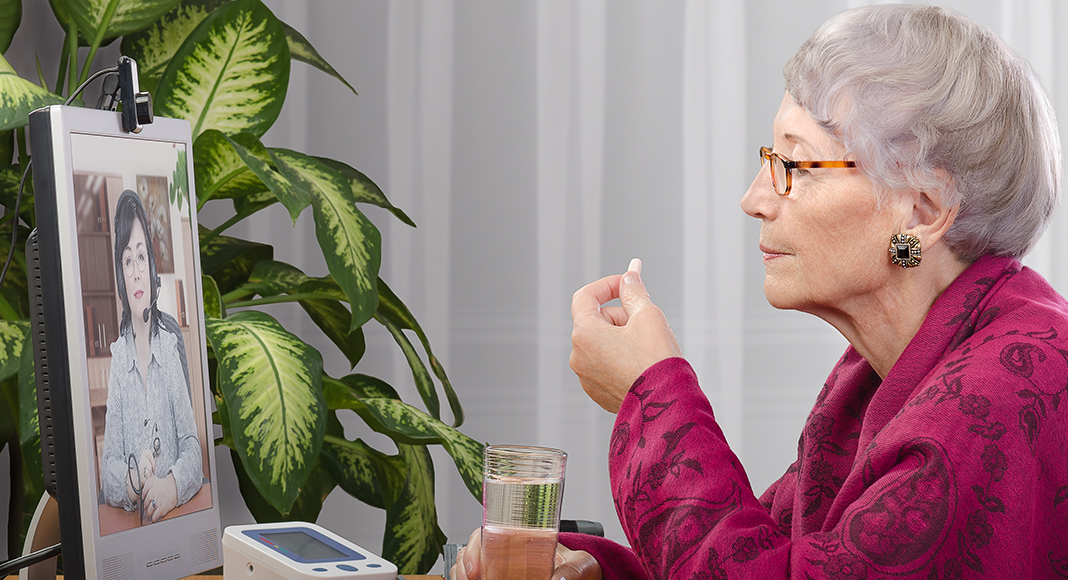 Tools and Technology for Telehealth
In order to provide patients with telehealth, three technology tools are essential:
secure and dependable internet connection
custom-configured hardware and peripherals
custom software
To guarantee safe and efficient telehealth services, the internet connection has to be secured and the patient's privacy has to be protected. Customized software encrypts patient information and if mobile devices such as smart phones or tablets are used, additional security efforts have to be made.
Custom-configured hardware includes carts, desktop/laptop computers and tablets. Carts are portable systems used for clinical and educational purposes. These carts usually include a monitor, camera, codec to encrypt information, keyboard and remote control. Clinical carts also enable medical professionals to view live images and take pictures to store and forward to other healthcare professionals. Computers can be used for consultations and tablets in emergency medicine to communicate with colleagues regardless of their current location.
Custom software is essential to provide a digital patient record that can be forwarded to other medical professionals if necessary. To guarantee privacy, this data is encrypted.
Advantages and Disadvantages That Have to Be Considered
As mentioned above, there are many advantages to telehealth. First of all, the possibility to speak to your doctor on the phone or via video call is convenient. Patients can save lots of time they would otherwise waste in a waiting room. It is also more cost-efficient since many doctors do not charge as much for a telemedicine consultation as they would charge for a face-to-face visit. Furthermore, patients can also save time and money when in need of a second opinion. Instead of having to go to a specialist's office, they can simply email their x-rays or MRIs to the respective doctor.
As convenient telehealth may seem, there are also disadvantages of this innovative system. The first issue is concerned with the technical aspect of telemedicine: Online communication only works as long as the internet connection is good. In case of a power outage or disrupt of the internet, the communication with your health provider no longer works. Another problem with telemedicine may be doctors themselves. Not every doctor is thrilled about talking with their patients online and not face-to-face. Another concern many doctors share is fear of inadequate assessment of the patient's issue. Not every health problem can be located by simply describing it to the doctor or examining it via a video call. Sometimes the examination requires physical contact.
Telehealth – Better Access to Healthcare, but with Limitations
Telehealth and telemedicine enable quicker and better access to healthcare; they save money and time and facilitate doctor's appointments. Novel technology stores patients' data and allows for easier communication among specialists from different fields of medicine. However, this technological aspect also calls for critical assessment of telehealth. Personal data has to be encrypted and protected from abuse. Moreover, telehealth only works if the internet connection is reliable and both patient and doctor know how to use these new services. Eventually, we have to consider the fact that telehealth cannot replace every in-person visit since not every examination can be done via a video call, some require real physical contact.
---
Sources
WHO: Telemedicine. Opportunities and Developments in Member States
Ackerman, M. J., Filart, R., Burgess, L. P., Lee, I., Poropatich, R. K.: Developing Next-Generation Telehealth Tools and Technologies: Patients, Systems, and Data Perspectives
Connect2Healthfcc Consumer Tips: Telehealth Offers Tech Tools for Living Independently
Washington Post: Telehealth tools help provide a clearer picture of patient needs
Antall, P.: 5 Reasons to Practice Telehealth
Harper, J.: Pros and Cons of Telemedicine for Today's Workers